My name is Clover Calloway and I've lived two separate lives.
The first, I like to call "my past." I never talk about it. I try not to think about it. My rockstar days of playing in one of the hottest bands on the planet are over. Along with the most volatile, beautiful, tragic love story of all time.
Over the past five years, I've settled into my second life. My "normal life." The one where I work a normal job, hang out with normal people and fall in love with a normal, but wonderful guy. The life where I'm admittedly a little bored, but also safe.
My past wasn't boring. But my past broke my heart into a million, unfixable pieces. So, I'm determined to keep it where it belongs—behind me.
And the man responsible for the shattering of me? Malachi Porter, lead singer and mastermind of Bright Tragedy, should stay there too. Far away from me and this idyllic life I've carved out for myself.
But what happens when my two lives collide?
When Malachi comes crashing into my perfectly normal world, he threatens to destroy it, promises to annihilate everything I've replaced him with.
He upends everything I thought I wanted and forces me to question the reasons I left Bright Tragedy all those years ago.
But I didn't walk away five years ago, I ran. As fast as I could go. And while my heart is whispering that it's different this time—that he's different—my brain is screaming for me to run again.
Malachi Porter isn't a normal guy. And he doesn't belong in my "normal life." But, nevertheless, he's bound and determined to make a place for himself here.
I just hope my heart can survive him, that we don't burn into another bright tragedy.
Buy Never Fall in Love with a Rockstar Today
Add to you TBR on Goodreads
Review Never Fall in Love with a Rockstar

Never fall in love with a rockstar; even if you are one yourself! This is an interesting twist on the rockstar trope. Clover was on top of the music world, a household name, playing sold-out stadiums and doing what she loved with her brother, her friends and her boyfriend-since-childhood. But, eventually it was all too much and she left it all behind. She did everything to start a new life. A simple life. A normal life. But, when her old life crashes headfirst into her new life, she has to examine if this "new her" is who she really wants.
And, things are different than they used to be. But, will those changes last? And are those changes enough to cancel out some of the rough memories and replace them with new ones? Clover has to decide if she can trust this new Kai and figure out where she fits into this new life.
Clover and Kai are well-written characters with so many attributes that are both likeable and relatable. It's easy to become invested in their love story and truly root for their happily ever after! The hero and heroine are surrounded by a terrific cast of supporting characters that have their own personalities and add depth and liveliness to the tale. How I wish Bright Tragedy was a real band! I'm really hoping that we'll at least get a series so each of the members of the band can find their own loves!
This story is heartfelt, emotional and full of angst. It's a story of love, fame, success, addiction, recovery and forgiveness. Woven through these themes is a romance for the ages. Never Fall in Love with a Rockstar is a gripping, emotional, page-turner and I definitely recommend adding it to your TBR!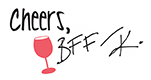 An advance copy of this book was received. Receipt of this copy did not impact the content or independence of this review.

About the Author
Rachel Higginson is the best-selling author of The Opposite of You, The Five Stages of Falling in Love, Every Wrong Reason, Bet on Us and The Star-Crossed Series.
She was born and raised in Nebraska, and spent her college years traveling the world. She fell in love with Eastern Europe, Paris, Indian Food and the beautiful beaches of Sri Lanka, but came back home to marry her high school sweetheart. Now she spends her days writing stories and raising five amazing kids.
You can visit Rachel:
Instagram @mywritesdntbite
rachelhigginson.com
facebook.com/rachelhigginsonauthor
Twitter @mywritesdntbite