Today is the day! The Last Wingman is LIVE on all platforms and it's everything we hoped it would be!
Jonah Kingston is the last wingman standing.
June Moxee doesn't care if he's the last man on earth.
I haven't exactly avoided relationships, but love has never been a priority. Solitude doesn't bother me and being alone doesn't mean being lonely. Until she moved to the island and I had to reconsider everything.
June seems content running her yarn shop, knitting with the local church ladies, and avoiding me. She's a temptress in a handknit sweater. And for some reason, she's not a fan of mine. It might be the tattoos. Or the beard. Or the fact that we're polar opposites.
A woman has finally caught my attention. Too bad she thinks she hates me.
Good thing I'm stubborn enough to try to change her mind.
The Last Wingman is the sixth standalone, lighthearted small town romance in the Wingmen series. You do not have to read the previous books first to enjoy this book.
BUY THE LAST WINGMAN today!
BFF K's Review of The Last Wingman

Jonah and June are just the best. They're #relationshipgoals. They are gentle and kind and perfect for each other and their journey to come together is everything I want to read in a romance novel! The Last Wingman is a leisurely walk down lover's lane to arrive at one of the sweetest, brightest, truest, happily-ever-afters I've ever read! Jonah is a nerd covered in tattoos and piercings. He's the poster boy for "Don't Judge a Book by It's Cover." And, he's just what June needs most.
Because this is the final book in the Wingman Series, this book also gave me some tears. Not that this story is sad, it's not at all! But, I will miss John, Tom, Dan, Jonah and the Kelso brothers! They've been such a welcome and wonderful part of my reading and blogging journey over the last few years. While I will miss them terribly, the beauty of books is that they will always be there for me, just as they are, when I want to go back for a visit. And, isn't that part of what's wonderful about books? We can read, relate to and love these characters. It is like we build our own relationship with each of them particularly in a really wonderful series that builds such a strong sense of place and the vibe of a whole island and its' people.
The Last Wingman is receiving a rare 6-Rating on BFF Book Blog because it completely illustrates everything that I have loved about this series. It is warm, cozy, heart-felt, full of friendship, quirks and incredible characters. It will have a special place in my heart and on my bookshelf. If you haven't read The Wingmen Series, now is the time to start. Spend some time in Whidbey with the Wingmen and their lady loves. You won't regret a minute of your stay! Godspeed to my fictional friends.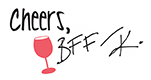 An advance copy of this book was received. Receipt of this copy did not impact the content or independence of this review.
About the Author

Daisy Prescott is a USA Today bestselling author of small town romantic comedies. Series include Modern Love Stories, Wingmen, Love with Altitude, as well as the Bewitched and Wicked Society series of magical novellas. Tinfoil Heart is a romantic comedy standalone set in Roswell, New Mexico.
Daisy currently lives in a real life Stars Hollow in the Boston suburbs with her husband, their rescue dog Mulder, and an indeterminate number of imaginary house goats. When not writing, she can be found in the garden, traveling to satiate her wanderlust, lost in a good book, or on social media, usually talking about books, bearded men, and sloths.
Website | Facebook | Twitter | Instagram | BookBub