Ready to Fall by Daisy Prescott
Wingmen #1, Where it all began


Tall, dark, and handsome is an understatement when it comes to John Day. With rugged good looks, his ever present plaid shirt, and a dog named Babe, John is a modern alpha male lumberjack.
After his favorite neighbor rents out her beach cabin for the winter, John finds himself playing fireman and tour guide to Diane Watson, a beautiful brunette with her own messy past and recent battle scars.
Will he be ready to fall in love? Or will he go back to his old, flirty ways?
Hold onto your heart as John Day tells his story in this male POV contemporary adult romance/romantic comedy.
Ready to Fall is the first novel in the Wingmen series, a spin-off from Modern Love Stories. Each book is a standalone with no cliffhanger.
Buy Ready to Fall Today
Currently FREE on Amazon!
BFF K's Review of Ready to Fall


Ready to Fall is a spin-off from the Modern Love Stories Series and the beginning of the Wingmen Series by one of our most FAVORITE authors, Daisy Prescott! I read Ready to Fall as soon as it came out, but before we started blogging. So, I was excited for the chance to participate in the Wingmen Series Book Tour and remind myself why I love this book and this series!
Beards are totally a thing now, right?!?! I mean you see them EVERYWHERE, (and you don't hear me complaining!) And, I firmly believe that John Day is the original Bearded Book Hero. The OG of Bearded-Hotties. The Father of the Lumberjack Revolution. He's literally a lumberjack with a dog named Babe! John Day is calm, rugged, honest and loyal. He's tough, manly, confident and capable. He's not looking to fall in love.
Diane Watson finds herself on Whidbey Island to heal her damaged spirit and take her life in a new direction. She's sweet and kind and compassionate and determined NOT to fall for the lumberjack-next-door. But, she does need kindness, support and friendship. She finds those attributes in John Day and one thing leads to another.
Ready to Fall is a slow-burn, sweet, butterfly-inducing story of love and healing and diving head-first into a relationship despite every effort to guard your heart from the impact. I adore John and Diane! You get brief glimpses into the lives and loves of their many friends, including the Geoducks gang and a GREAT intro to Tom Cat Donnelly! AND, Whidbey Island feels like a character in the book more than a setting. (Visiting this oasis is now on my bucket list!)
Ready to Fall (and Daisy Prescott) knew bearded heroes before beards were even cool. This book is proof that sweet romance and heart-felt characters never go out of style!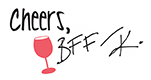 BFF Book Blog Instagram Giveaway
Amazon Kindle Preview of Ready to Fall
————–
Additional Books in the Wingmen Series
Click on the titles to read BFF K's reviews of these books.
BETTER LOVE
Available on all platforms October 24th
PRE-ORDER EXCLUSIVELY ON IBOOKS
About the Author

USA Today Bestselling Author Daisy Prescott writes romantic comedies with heart.
Her Modern Love Stories feature characters in their thirties and forties finding and rediscovering love in unexpected and humorous ways. Her Wingmen books star regular guys who often have beards, drive trucks, and love deeply once they fall.
Born and raised in San Diego, Daisy currently lives in a real life Stars Hollow in the Boston suburbs with her husband and an imaginary house goat. When not writing about herself in the third person, Daisy can be found traveling, gardening, baking, or lost in a good book.