BETTER LOVE by Daisy Prescott (Wingmen, #4)
Maybe that old song got it right.
Maybe love can be better the second time around.
When one of my wingmen needs help, I'll do anything for him, including calling in a favor with the one person I swore I'd never speak to again.
Not after I walked away from that life five years ago and ditched the trappings of my success. The keyword being trap.
I left it all behind.
Including her.
Now the ambitious, brilliant, talented, and undeniably beautiful Roslyn Porter is back in my life. I'm not the same person she knew. I'm trying to be a better man.
No man is an island, but Dan Ashland comes close. He's content with his quiet life on Whidbey, a world away from the rat race on the other side of the ferry.
Dan has three great loves in his life: solitude, pizza, and Roslyn Porter.

Better Love is a standalone second chance romance featuring Dan Ashland and the fourth book in the Wingmen series.
PURCHASE BETTER LOVE NOW
BFF K's Review of Better Love

I'm torn between telling everyone to read this book and wanting to keep Dan The Pizza Man all to myself! Dan Ashland is my new #1 Book Boyfriend and it's going to take a lot to kick this silver fox out of his special place in the den!
Better Love is the fourth book in the Wingmen Series from Daisy Prescott, but can be fully enjoyed as a standalone. Though, I'm not sure why you wouldn't read the other 3 books ASAP if you haven't already. I thought that Tom Cat Donnely was my favorite hero in the series, but Dan just skateboarded right past Tom and straight into my heart!
This is a warm and wonderful second chance love story centered around two exceptional characters. I love the fact that this story focuses on main characters with age and experiences I can relate to. But, the story is still fresh and interesting and full of heart. I love Daisy Prescott's writing! Her witty banter and dialogue are always fun and engaging. Each of her stories is sprinkled with a little bit of pop culture and more than a few scenes that will make you giggle out loud!
Better Love is my most favorite kind of book: smart, funny, endearing, quirky, and sweet. It is full of butterfly-inducing romance and more than a couple steamy scenes. But, again, the very best part of this book is Dan. I can't wait for more books in the series so that I can check back in with Dan and Ros! This book is in the top of my 2016 Besties list and it is absolutely one you don't want to miss! Get some Better Love in your life TODAY!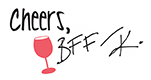 An advance copy of this book was received from the author. Receipt of this copy did not impact the content or independence of this review.


PREVIOUS BOOKS IN THE SERIES
Get READY TO FALL (Wingmen #1) for FREE!
About the Author

USA Today Bestselling Author Daisy Prescott writes romantic comedies about real love.
Her Modern Love Stories feature characters in their thirties and forties finding and rediscovering love in unexpected and humorous ways. Her Wingmen books star regular guys who often have beards, drive trucks, and love deeply once they fall.
Born and raised in San Diego, Daisy currently lives in a real life Stars Hollow in the Boston suburbs with her husband and an imaginary house goat. When not writing about herself in the third person, Daisy can be found traveling, gardening, baking, or lost in a good book.
To learn more about Daisy and her writing, sign up for her mailing list here (copy and paste this link): http://smarturl.it/daisysignup . Send her an email at: daisyauthor AT gmail DOT com Or chat with her on Twitter (@daisy_prescott) and Facebook: /daisyprescottauthorpage, and follow her on Instagram: /daisyprescott