Small-Town Heart By Andrea Johnston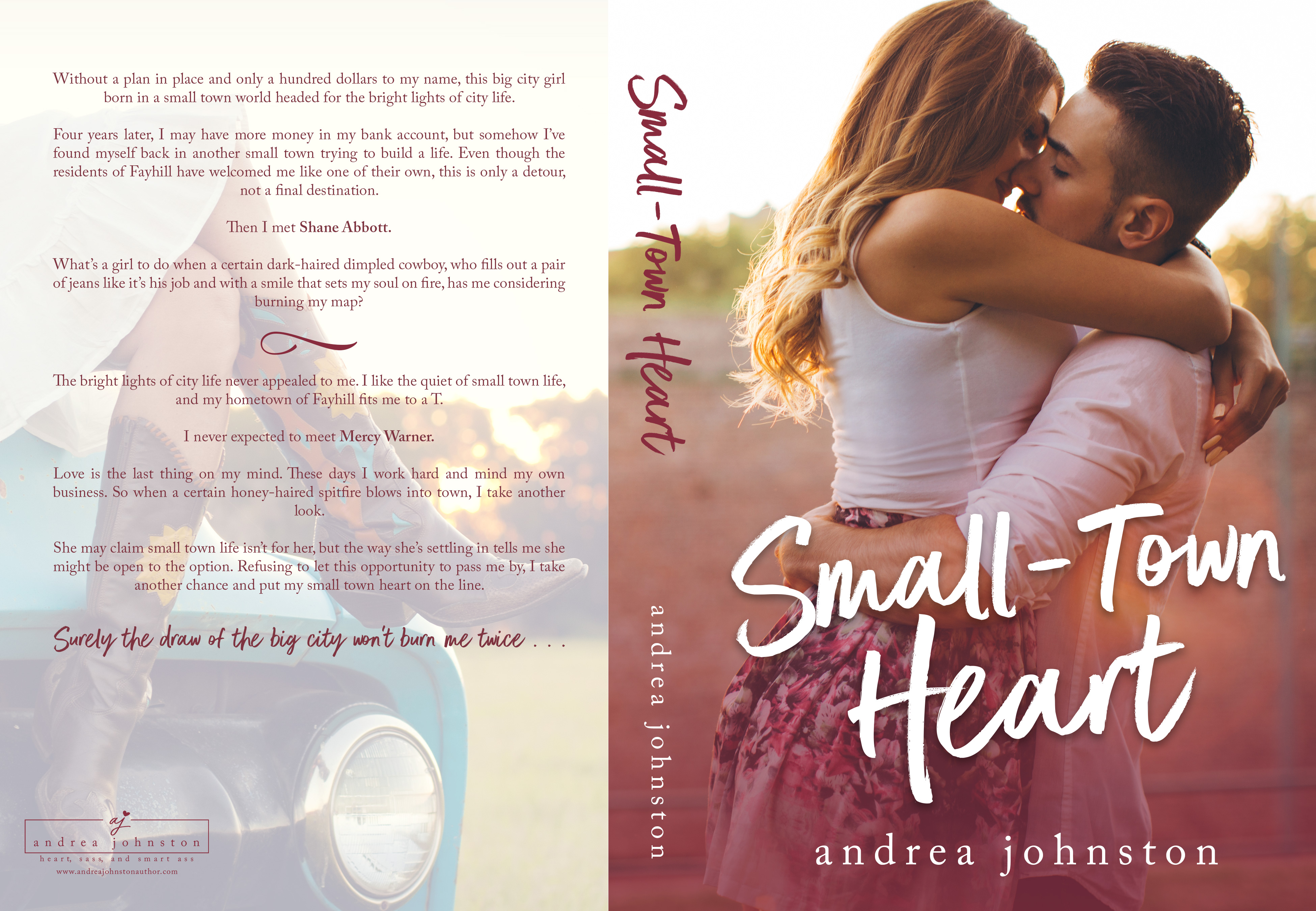 Small-Town Heart is a full-length standalone novel that was originally released in December 2017 as "Mercy" and part of the Wanted Kindle Worlds. The love story of Mercy & Shane remains but has been expanded and the location changed. Fans of the Country Road Series will recognize references to the town of Lexington and there are hints of what is to come in 2019!
Without a plan in place and only a hundred dollars to my name, this big city girl born in a small town world headed for the bright lights of city life.
Four years later, I may have more money in my bank account, but somehow I've found myself back in another small town trying to build a life. Even though the residents of Fayhill have welcomed me like one of their own, this is only a detour, not a final destination.
Then I met Shane Abbott.
What's a girl to do when a certain dark-haired dimpled cowboy, who fills out a pair of jeans like it's his job with a smile that sets my soul on fire, has me considering burning my map?
*
The bright lights of city life never appealed to me. I like the quiet of small town life, and my hometown of Fayhill fits me to a T.
I never expected to meet Mercy Warner.
Love is the last thing on my mind. These days I work hard and mind my own business. So when a certain honey-haired spitfire blows into town, I take another look.
She may claim small town life isn't for her, but the way she's settling in tells me she might be open to the option. Refusing to let this opportunity to pass me by, I take another chance and put my small town heart on the line.
Surely the draw of the big city won't burn me twice . . .
Coming November 16, 2018
Add Small-Town Heart to Goodreads
BFF K has read this and it is GOOD – really good!
About the Author
Andrea Johnston spent her childhood with her nose in a book and a pen to paper.
An avid people watcher, her mind is full of stories that yearn to be told.
A fan of angsty romance with a happy ending, super sexy erotica and a good mystery, Andrea can always be found with her Kindle nearby fully charged.
Andrea lives in Idaho with her family and two dogs. When she isn't spending time with her partner in crime aka her husband, she can be found binge watching all things Bravo and enjoying a cocktail. Nothing makes her happier than the laughter of her children, a good book, her feet in the water, and cocktail in hand all at the same time.
Facebook | Website | Sassy Romantics | Nerd Herd | Instagram | Twitter | Amazon