Join Jake & Chelsea, Stanton & Sofia, Brent & Kennedy as they navigate the hilarious and heartwarming hurdles of love, life and the law in this final addition to the Legal Briefs Series.
There was a time when Jake Becker had it all together. He was controlled, driven, ruthless—in and out of the courtroom.
Then, six irresistible orphans and their heartbreakingly beautiful aunt crashed into his perfectly ordered life. They changed everything. They changed him. Now he's a husband, an upstanding member of society, a father figure—a family man.
And he's pretty damn good at it.
Sure, he has to referee sibling smackdowns, re-learn algebra, ensure his clients stay of jail, and keep his wife happy—but it finally feels like he's got it together again….
So, of course something has to screw it all up. It's huge. Life-changing. Kind of terrifying.
And it will be the most amazing, perfect thing he'll ever do.
Buy Links for Sidebarred
Buy the Legal Briefs Series
BFF K's Review of Sidebarred

Sidebarred is a fantastic little novella that perfectly wraps up the Legal Briefs Series. This is a sweet, sexy, romantic story that highlights the love of Jake and Chelsea Becker.
I love Jake and Chelsea. They were my favorite couple from the legal briefs series. Their story was continuous examples of triumph and rebirth from sad circumstances. Sidebarred takes their journey one step further and allows Emma Chase the opportunity to write fulfilling conclusions for all of the characters in the series.
If you haven't read the Legal Briefs Series, I cannot recommend it highly enough. I adore these characters and I know you will too!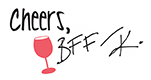 An Advance Copy was received in exchange for an honest review.

Excerpt
Chelsea sits beside me on the couch, facing me, her legs tucked, her pretty feet curled under her. Yes—Chelsea has pretty feet, okay? I never knew feet could be pretty—until I saw hers.
"So . . . that talk I mentioned before? We should probably have that now, while we can."
I take a sip of my drink and nod. "Yeah—I wasn't at all hoping you'd forget about it or anything."
Her face slides into a grin. "Funny."
I look back at her, straight-faced. "I'm a funny guy."
When she doesn't say anything for a few moments, I ask, "What's up?"
Because now I'm actually getting concerned. My stomach tightens as I brace for whatever's worrying her—and before I even know what I'm up against, in my head I'm already planning all the ways I'll take care of it. Because that's what I do—and I'm good at it.
But what she tells me next blows my fucking mind.
"I'm late."
Two words—ten thousand thoughts exploding in my head at once.
I'm a big guy, six-five, 225 pounds of muscle. Guys like me, our voices don't squeak. But at this moment, mine comes damn close.
"Like . . . for an appointment?"
Chelsea inhales deeply, then breathes out, "No."
About the Author
By day, Emma Chase is a devoted wife and mother who resides in a small, rural town in New Jersey. By night she toils away the hours bringing her colorful characters and their endless antics to life. She has a long standing love/hate relationship with caffeine.Emma is an avid reader. Before her children were born she was known to consume whole books in a single day. Writing has also always been a passion and with the 2013 release of her debut romantic comedy, Tangled, the ability to now call herself an author is nothing less than a dream come true.