Lawrence and Steph Brooks spent years fighting their love, and then they fought their way back to each other. After earning their happy, swoon-worthy ending, they were intent on keeping it.
But a few years, a fledgling business, and a couple of kids later, Steph and Lawrence learn that falling in love was the easy part and happily ever after isn't for sissies. With life bearing down on them, they can't always escape the fall, but they can do it with style.
*Falling with Style is a companion novella to Swoon, but may be read as a standalone.*
BFF K's Review of Falling with Style

"The Happily Ever After is never the end, it's just the beginning." This is a quote from CM Foss about the premise behind Falling with Style, and I love this idea. The idea that the lives and loves of our favorite characters continue after we finish a books' final chapter. This novella is really a continuation of Lawrence and Steph's stories started in her previous books.
TRUE CONFESSION TIME…I haven't read Swoon or Shiver – YET! I prove the theory that this book can be read as a stand-alone and it is perfectly enjoyable. BUT, now I am anxious to read Swoon and Shiver to get all of the back-stories that I know I'm missing.
I can relate to Lawrence and Steph. They're busy. Full-time jobs and a full-time family, they're trying to balance all of the important things in life and still find time for one another. There are a couple of instances of "interrupted romance" that had me laughing out loud. But, what spoke to me the most about this novella is the tenderness and commitment that Lawrence and Steph have for one another. With all of the distractions and frustrations, they love each other to the core. They're committed to creating a joyful and fulfilling life together. That kind of love and devotion is truly a Happily Ever After.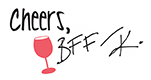 An advance copy was received in exchange for an honest review.
About the Author
CM Foss is a hopeless romantic with a love for the written word. When she was little, her mom would ration her books so she wouldn't go through them too quickly. It didn't matter, she would just re-read. She's always been an avid equestrian, competing in the top levels of Three Day Eventing by age seventeen. CM now resides in Northern Virginia with her husband and kids where they own and operate their own equestrian business, as well as raising grass-fed, sustainable meats. She doesn't have this thing people call "free time", but she does spend a weird amount of time writing, reading, playing with her kids, milking goats, and drinking wine, while avoiding bananas at all costs. Other books by CM Foss include Shiver, Swoon, and City Beautiful.