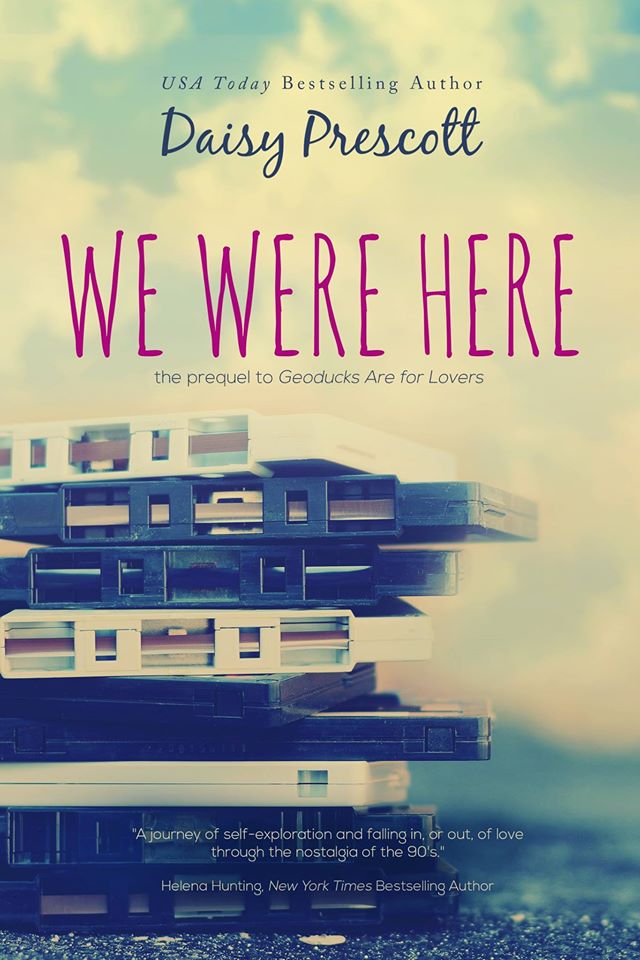 In the 90s …
texting involved paper and a pen …
… our selfies were Polaroids …
… our favorite music was on mixed tapes.
Sex was dangerous, music was raw, and falling in love felt nostalgic.
We were friends and lovers.
We thought we knew everything.
We knew nothing.
We were here.
Set in the early 1990s, a time before the internet, social media, and smart phones, We Were Here is the prequel to Geoducks Are For Lovers. This book can be read as a standalone.
Releasing February 22, 2016
I am beyond excited about this book! I have mad love for all things Daisy Prescott. The Modern Love Stories Series is at the top of my most recommended reads. Until now, that all started with Geoducks are for Lovers, but now we have the prequel to that wonderful story. I can't wait to read this book. You definitely have to add it to your TBR! And, this book speaks to the heart of my fond college days. I'll be counting down the days until it's released.
Add We Were Here to your Goodreads today: https://www.goodreads.com/book/show/28426355-we-were-here
We Were Here is available will be available on multiple platforms, but it is currently available for exclusive pre-order on iBooks: https://itunes.apple.com/us/book/we-were-here/id1074374019…
Links to All Things Daisy
BFF K's Geoducks are for Lovers Review


BFF K's is a slacker. Though I've read Ready to Fall, I apparently never wrote a review of John's awesomeness. I will be fixing that ASAP!


BFF K's Review of Missionary Position


BFF K's Review of Confessions of a Reformed Tom Cat


Purchase this box set of Ready to Fall and Confessions of a Reformed Tom Cat. I have this hard copy on my shelf and I LOVE it!

The Following are Short Stories following the Modern Love Stories Series Characters
BFF K's Review – Read AFTER Confessions of a Reformed Tom Cat
BFF K's FAVORITE of the Short Stories –  Read AFTER Geoducks are for Lovers
BFF K's Review – Read AFTER Ready to Fall
Read AFTER Geoducks are for Lovers
About the Author

Before writing bestselling contemporary adult romances, I dreamed of being an author while doing a lot of other things. Antiques dealer, baker, blue ribbon pie-maker, fangirl, freelance writer, gardener, pet mom and wife are a few of the other titles I've acquired over the years.
Born and raised in San Diego, I currently lives in a real life Stars Hollow in the Boston suburbs with my husband, our dog Hubbell, and an imaginary house goat.
Twitter | Facebook | Author Goodreads | Pinterest | Instagram | Google+