Reality Bites becomes The Big Chill when a group of Gen-X friends spend a summer weekend together sharing laughter, tears, life's ups and downs, old stories, second chances, and new beginnings in this contemporary romance. 

"…I think life is better when you have love. Not a friendly neighbor or old friends kind of love either, but a love that causes your heart to race and your toes to curl." 

Maggie Marrion is just getting back on her feet after a horrible year, or two, or three. With their twentieth reunion approaching, she invites four of her closest friends from college for a mini-reunion at her beach cabin on Whidbey Island. What she doesn't expect is her best friends Selah and Quinn to play matchmaker. Will Maggie risk her heart and her quiet life for another chance at romance? 

Gil Morrow, former grunge musician turned history professor, joins them as Selah's date for the weekend. With the support of old friends, a few wishing rocks, the world's largest burrowing clam, and a hot lumberjack thrown into the mix, Gil reminds Maggie she isn't too old to fall in love.
BFF K's Review


A great read. Sweet, sentimental and at times laugh out loud funny! I loved this book! I highly recommend it to any Gen-X'er who likes a darling little love story! This is the perfect summer beach read. You'll get swept up in Gil and Maggie's story of a 2nd chance at love.
FYI – Geoduck is pronounced – Gooey-Duck
To see a photo of a geoduck, click HERE at your own risk! 😉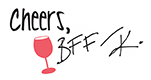 More About the Author:
Before writing bestselling contemporary adult romances, Daisy dreamed of being an author while doing a lot of other things. Antiques dealer, baker, blue ribbon pie-maker, fangirl, freelance writer, gardener, pet mom and wife are a few of the titles she's acquired over the years.
Born and raised in San Diego, Daisy currently lives in a real life Stars Hollow in the Boston suburbs with her husband, their dog, Hubbell, and an imaginary house goat.
To learn more about this author and her writing visit: http://www.daisyprescott.com, chat with her on Twitter (@daisy_prescott), or find her on Facebook: /daisyprescottauthorpage