Today we are celebrating the release of ANYTHING BUT LOVE by Daisy Prescott. This book is a standalone, romantic comedy, and it is the 3rd book in the Wingmen series. Check out the buy links below. This is the perfect fun and sexy summer read.
ANYTHING BUT LOVE (Wingmen, #3) by Daisy Prescott
Now Available!
Another wingman bites the dust in this enemies to lovers story…
For the past year, I've been working my butt off to start my own coffee company on Whidbey.
A weekend in Cabo with sun, tiny bikinis, and vacation hook-ups is exactly the kind of tension relief I need.
What I don't need is a bruised jaw, having to bribe my way out of jail, a hellion set on ruining my life, and my mother seeing a picture of my assets on "The Twitter."
Caribou Caldwell is my worst nightmare.
Unfortunately, she's also the star of my sexiest dreams.
What happens when a small town guy becomes the focus of a million fantasies? As Erik Kelso navigates his sudden notoriety, will his feelings for Cari turn out to be anything but love?
Anything but Love is the third book in the Wingmen series, a spin off of Modern Love Stories. Like all Wingmen books, it can be read as a standalone romantic comedy.
PURCHASE NOW!
BFF K's Review of Anything But Love

Welcome to Daisypalooza! In the month of July, Daisy Prescott is releasing TWO full-length, stand-alone novels and a short story. It's obviously my birthday month, but this year = presents for everyone!
Anything But Love is the latest installment in the Wingmen series set on Whidbey Island. In Anything But Love, we find Erik Kelso exposed by a viral photo that has turned his life upside down. He's fresh meat for every cougar on the Island (and beyond.) The open oglings, by a variety of the islands older ladies, are some of the book's most deliciously raucous scenes! Enter Cari Caldwell, Erik's new nemesis. Her role in his new found fame has Erik frustrated in every possible way.
What ensues is an absolutely fantastic, enemies-to-friends Rom Com! Anything But Love is LOL-funny! Not just LOL, but seriously Laugh Out Loud through every chapter! My highlighter got a workout highlighting all of the LOL scenes. It felt like there was something hilarious on every page.
Anything But Love is charming, sweet, heart-warming, clever and playful. The characters are entertaining and relatable. This is another trip to Whidbey that makes you want to pick up and move to Washington. There are some great cameo appearances by John Day and Tom Donnely (Diane and Hailey too!) If you haven't read the other Wingmen books; you'll love these characters and then want to read their books asap!
This book made me giddy and oh so happy! I guarantee it will put a smile on the face of every rom-com lover. It's a definite one-click!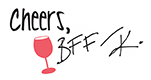 An advance copy was received in exchange for an honest review.

PURCHASE NOW!
——————————-
PREVIOUS BOOKS IN THE SERIES
Get READY TO FALL (Wingmen #1) for FREE!
CONFESSIONS OF A REFORMED TOM CAT (Wingmen, #2)
About the Author

USA Today Bestselling author Daisy Prescott lives in a real life Stars Hollow in the Boston suburbs with her husband and an indeterminate number of imaginary housegoats. When not writing about people falling in love, she can be found traveling, gardening, baking, and reading a good book. Her novels include the Modern Love Stories series, the Wingmen series, and several short stories. She's also working on expanding the world of Bewitched this fall.