From NYT & USA Today bestselling author comes a new Bleeding Stars stand-alone novel…
She is his strength and he is her weakness. And this time he won't let her go.
Edie Evans is gorgeous.
Sexy.
Kind.
She's also the definition of off-limits.
But that didn't stop me from sneaking into her room to comfort her at night.
But guys like me? We destroy everything, so it should have been no surprise when I destroyed us, too.
The night I sent her running, I thought I'd never see her again.
Until I saw her standing like a vision in the crowd.
Austin Stone is dangerous.
Alluring.
Tempting.
He broke my heart and I refused to give him the chance to do it again.
It's been years since I've seen him, and now I can't do anything but stare at the gorgeous, tattooed man playing onstage. I should run. I know I should. But like a fool, I run straight back to him.
Our desire is overpowering.
Our need unrelenting.
She is my hope.
He is my weakness.
We should have known a passion this intense would burn us right into the ground.
BFF K's Review of Wait

I am typically drawn to the lighter, feel-good books. But, if I want something angsty and emotional and beautifully written, I know without a doubt that Amy Jackson will deliver what want and then some!
Wait is the continuation of the Bleeding Stars Series that follows the members of the world-famous band, Sunder. I was sucked into this series from the very beginning with A Stone in the Sea and I feel so deeply invested in the lives and loves of all of these characters. Each book and each story gets better than the last. (And, I'm giddy thinking about Ash getting his world rocked in the next book!)
Austin and Edie are two pieces from the same puzzle. They have both experienced tragedy and heartbreaking losses that have fundamentally changed who they are. The pieces of their broken hearts and souls fit together and belong nowhere else. Both of the characters are flawed and damaged; but at the same time so desperate to fight and be better for themselves and each other. Their story is inspirational and ultimately uplifting though it is encased in layers and layers of angst!
A.L. Jackson's words are lyrical. I feel like the pages should be set to music to create the most beautiful songs. Her prose and phrasing flow off the page. It is an absolute gift to have a book filled with so much emotion and so many lovely words. While Wait is a stand-alone, you'll maximize your enjoyment of the book if you read the other books in the series first. This is a book (and series) that should be devoured word for word!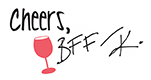 An advance copy was received in exchange for an honest review.

Read BFF K's Reviews for the rest of the Bleeding Stars Series:
 Book Trailer for Wait
About the Author
A.L. Jackson is the New York Times & USA Today Bestselling author of contemporary romance. She writes emotional, sexy, heart-filled stories about boys who usually like to be a little bit bad.
Her bestselling series include THE REGRET SERIES, CLOSER TO YOU, as well as the newest BLEEDING STARS novels. Watch for the next installments, WAIT and STAY, coming in 2016.
If she's not writing, you can find her hanging out by the pool with her family, sipping cocktails with her friends, or of course with her nose buried in a book.
Be sure not to miss new releases and sales from A.L. Jackson – Sign up to receive her newsletter http://bit.ly/NewsFromALJackson or text "jackson" to 96000 to receive short but sweet updates on all the important news.