Locations: New York City (Cobble Hill, Brooklyn Heights, TriBeCA) Las Vegas,
San Francisco
Setting: 2003-Present day
Characters:
Chloe LeGrange Ford – talented musician craving resolve
Adam Ford – handsome attorney longing for a revelation
Natalie LeGrange Brooks – creative free-spirit dreaming of the stars
Chris Brooks – sexy Texan waiting for the right time
Objective:
Authentic situations and original characters capture the intimate moments in a
timeless love story.
Themes:
Patience, impulse, pride, joy, and undeniable sexual attraction.
Genre:
Indie/Romance/Drama/Humor
The Ballad is a love song following dreamers and lovers over a span of ten
years. Set against the picturesque backdrop of New York City and paired with a
reverse narrative, their story is an original retelling of what it means to
find the happily ever after in the midst of the journey.
BFF K's Review

The Album is one of BFF K's Bestie Reads for 2014! It is an incredible, wonderful, funny, heart-warming,  tale of five friends written in the most unique style and format we've come across in a long time! I LOVED it!
So, I was thrilled with the recent release of The Ballad. This is a companion novel to The Album sharing stories and vignettes from the lives and loves of many of the same characters in The Album. The Ballad is like going to a reunion, but only seeing/spending time with your most favorite people! This book is an opportunity to slip back into their stories and get a deeper look at some of the most significant moments.
You'll be a guest at Chloe and Adam's wedding, have a ring-side-seat at the births of babies, experience career changes and even a Vegas vacation. In many cases, it expands on the epic narratives started in The Album or tells new ones that you'll love to read. The unique format and writing for The Ballad is one of the things I love most about the book. It's like getting little glimpses into the lives of the characters over several years and learning about their thoughts and all the things that make them tick. The characters are so well developed, parts are LOL-funny, there is lots of romance and a little steam. Through everything: cousins Chloe and Natalie are the heart of the story, their friendship is the very best love story told and music makes the memories!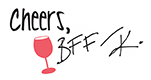 Links to Buy
Also Available
Music Video
About the Author
Fifteen years ago I became a permanent New Yorker, but I've yet to abandon my Texas charm. NYC is an amazing place to find inspiration – the random and the ordinary that make up reality. My writing showcases inspired ideas, as well as my love for dichotomy, authenticity and humor.
I'm just a girl. A girl with a dream. A dream to write for television. I also had a dream to marry Christian Bale, but I digress. I'm a girl with a dream to write and write and
write until someone tells me to stop. And even then I would find a way to write about the jerk who wanted me to stop.
Author Links