Five narratives.
One Epic Soundtrack.
The Album
Location: New York City (TriBeCa, Brooklyn Heights, Cobble Hill)
Setting: 1996-2013
Characters:
Chloe LeGrange – talented musician searching for a purpose
Natalie LeGrange – lovable bad girl chasing her dreams
Adam Ford – perceptive attorney longing for a surprise
Zach Parker – philosophical Marine defending love
Chris Brooks – charming Texan with perpetual bad timing
Objective:
Unexpected encounters and brushes with fate construct a web of stories about the journey of love and acceptance.
Themes:
Fate, acceptance, sex, drugs, and really good music.
Genre:
Indie/Romance/Humor/Drama
The Album is a journey following five friends over the course of two decades. Set against the timeless backdrop of New York City, their story is a classic retelling of what it means to follow your dreams, accept reality, and have a lot of fun in the process.
BFF K's Review

Stop what you're doing BFFs! This book is a must read, instant BFF Bestie! I just finished this weekend and I think I'm still in a book fog. It is so fantastic; an epic story of interwoven characters, spanning years, a few countries, countless pop culture references, heart-break, romance, incredible love, a little angst and moments that will make your heart plummet and soar. All of this set to the most amazing playlists.

This is the incredible story of characters and lives that are layered together and intertwined whether the characters know it or not. It is thoughtful, heartfelt, well-written and refreshing. The Album is the kind of book that leaves you savoring passages and re-reading highlights to embrace the characters just one more time.
In thinking about my review, I tried to decide which character I liked best or which scenes or lines I should highlight to share. I came to the conclusion that I simply LOVE it all. I adore all of the characters for the way that they're uniquely and fully developed and shared on the page. I can't identify one that I love more than the other, but the way it all comes together is nothing short of exquisite.
Has this ever happened to you: you've finished a book, but all you can do is think about it? Maybe you pick it up and re-read a few lines again? And you go about your regular day thinking about the characters in a really unhealthy way, like obsessively? And you want to get over the book, but you don't want the experience to be over? So, you go online and obsessively look up information on the book and things related – like songs and quotes and mildly stalk the author? (Like in a fun fangirl way, not showing up on her front stoop kind of stalking….) Yeah, so that might be how I feel about The Album.

When I finished, I started frantically sending texts and messages encouraging all of my friends to buy and read this book. I want every one of my friends to have the shared experience of loving this book. Consider this a personal nudge from me to you…Read this book now! The Ballad releases on December 11 and you'll be waiting to read it too!






I am so taken by this book and the author that we're giving you the opportunity to win some wonderful prizes in celebration of the book.
Thank you to Ashley Pullo for donating a SIGNED COPY of The Album to one lucky U.S. winner! And, a special shout out to Daisy Prescott, another one of my favorite authors for recommending this book and gifting me a copy. Show her some love in this Rafflecopter too. Both of these women are fantastically fun and you'll love getting to know them and getting their newsletters!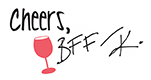 About the Author
Let me just preface by saying, I adore her. Ashley is generous, talented and funny. Check out our next post to learn more about Ashley as she answers BFF K's questions about The Album in our VERY FIRST Author Interview, "That's What She Said." (Thanks for the title, Ashley!)

The Lone Star State will always be my home, but fifteen years ago, I took the plunge and became a New Yorker. NYC is an amazing place to find inspiration in my daily surroundings–the random and the ordinary that make up reality. My writing showcases inspired ideas, as well as my love for dichotomy, authenticity and humor.
When not sitting in front of the TV devouring my favorite shows, I can be found at a soccer game with my husband and two children.
Facebook: www.facebook.com/AshleyPullo
Twitter: @ashpullo
My NEW AMAZING WEBSITE http://www.ashleypullo.com
Or find me at any local Starbucks around 3 p.m.