One day last spring, this popped up on Facebook: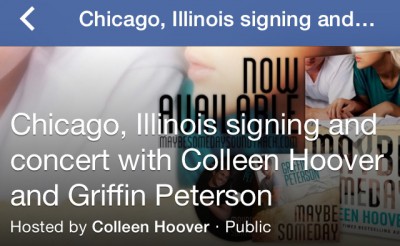 BFF A and I got very excited and pondered it for a few days. Then, one evening after a few cocktails, we looked up transportation and hotel options and replied like this:

OMG! We began planning and soon made our way from Nebraska to Chicago! What a super fun weekend! You learn a lot about your BFF after two 9-hour bus rides and three days in a hotel together. Guess what, we still LOVE each other! We had a great time seeing the top touristy spots in Chicago, but the highlight was definitely the concert and book signing.
Colleen and Griffin came on stage for a great Q&A. Griffin's band (featuring Papa P aka Griffin's Dad on bass guitar) performed all of the songs from the Maybe Someday album and then stood for hours to sign books and 'stuff'! It was incredible!
Swoon!
Here are each of our reactions to the incredible weekend!
BFF A's Reaction:
Yes, I'm a music junkie/concert seat snob. Put me at any concert and I gaze at the soundboards, instruments, band, the whole works. Put me this close to Griffin Peterson and his band and I instantly become the annoying fan girl I swore I never would be (it took every ounce of energy not to rush the stage…that may have been frowned upon). The intimate setting and the opportunity to hear Griffin make Maybe Someday come to life all over again was amazing. It was like I was reading Colleen's words all over again, experiencing Ridge and Sydney's love story- only this was the live version. Griffin and his band (which also included is own Dad for this show) did not disappoint! Although I love all of the songs, the title song Maybe Someday was by far my favorite of the evening. Maybe it was being in Chicago for the first time with my BFF, or being in the same proximity of my favorite author and musician, perhaps it was the wine, or Griffin's grandma's cookies…whatever it was, it was definitely an unforgettable night.
BFF K's Reaction:
Forgive me, this is probably going to be a tad long!
When I met Colleen Hoover and Griffin Peterson, I had my "I carried a watermelon" moment. You know what I'm talking about, from this scene in dirty dancing. It was the moment that you meet someone you adore so much and you get completely tongue-tied and can't think straight! Since we were staying in Chicago and didn't have a train to catch we weeded toward the end of the line which meant that of course I had had a couple glasses of wine. We were having an amazing time and we met some really fantastic people (shout outs to Rose and Mary and Griffin's aunt!) and a big thumbs down to Jimmy John's who apparently doesn't deliver at 11 PM in Chicago.
So after anxiously waiting a couple of hours to meet Colleen and Griffin we got to the front of the line. In retrospect, perhaps I should have done more preparation and less chit-chatting and drinking! I'm not really sure what I had planned to say, but I am confident it was not "oh look you have a little diet Pepsi" and "your grandma makes really good cookies ." Yep. That's all I got out!
To explain my comments, she did have a really tiny bottle of diet Pepsi sitting on the table! I am also a huge diet Pepsi fan (to the tune of about 88 ounces a day!) I've always thought it's one of the many things we have in common and why she could be one of our BFFs. And while waiting in line we met Griffin's aunt who is awesome and she offered one of his grandma's cookies since we had been waiting a while. And it really was a delicious chocolate chip cookie! But I'm pretty sure those are not the things I wanted to tell them! See, it is my "I carried a watermelon "moment!
All told, the Maybe Someday Concert and Book Signing experience was phenomenal and so much fun! Lots of laughs, new friendships and life-long memories!

BOTTOM LINE
If you have the chance to see Griffin Peterson in concert or to meet Colleen Hoover, DO IT!