The new release of Floored has it all! Be sure to read through the end of this post!
Review, Excerpt, Links to reviews of the other books in the series AND a Giveaway!
Erin Upton is too embarrassed to tell the cops what she was really doing while her townhouse was burglarized, especially since the first officer on the scene is former nuisance next door Charlie Dwyer. Where's the justice in the world when a neighborhood know-it-all grows up to be six-foot-three inches of solid muscle with gorgeous green eyes and a slow, sexy please-arrest-me-now-officer smile? It's bad enough she's wearing her robe and slippers—did he have to notice her fuzzy hand cuffs on the bathroom sink?
He's arrogant as he ever was, which is fine by her—she's too busy with her dance studio's grand opening to make time for a man. But they keep crossing paths, and
when Charlie offers to help her put in new flooring at the studio one night, things go from hammering nails to hammering each other in a hurry. And about those hand cuffs…
They agree it's a one-time thing. But when that becomes a two-time thing, then a three-time thing, Erin starts to wonder if maybe she and Charlie could be a life-time thing. Her best friends Mia and Coco found love in unexpected places. Is it finally her turn?
Buy it here:

BFF K's Review

There's no doubt in my mind that Melanie Harlow saved the very best story for the end of the Frenched series! I absolutely adored the story of Erin and Charlie. It's sweet and steamy. I loved Erin! When I started the book I felt like she was really the least known and understood of the Frenched series heroines. She had made appearances in the other books, but I didn't feel like I really knew her.
I really loved getting inside Erin's head. She was a great character with a good heart and wonderful intentions. And, she proved a worthy partner for new-comer Charlie. Swoon! Charlie is absolutely charming and endearing. Woooo – can he bring the steam with his dirty mouth and big ideas! One of my favorite parts was how Charlie teases Erin. He brings out a lighter side for her and it was fun to read.
AND – the epilogue was a bright bow on the wonderful present that has been the Frenched series!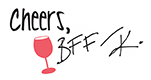 Read BFF K's Reviews for the Frenched Series
Floored Excerpt
I waited under my covers the entire time the police were checking the house, about twenty minutes. I had the phone under there with me, and I called both Mia and Coco, but neither of them answered their phones. I left messages, telling them what happened and begging both of them to call me back. I would've called my mother, but she'd left this morning for a twelve-day religious pilgrimage to Spain. I should have gone with her, like she wanted me to. Now God is punishing me! He knows I have unholy thoughts about Brad Pitt (a married man!) and now I have to pay for it!
A knock sounded on my locked bedroom door, making me jump.
"Ma'am? We've checked the house. There's no one here." The officer's voice was deep and reassuring. "When you're ready, we'd like to speak with you. We'll wait in the kitchen."
I peeked out from the covers, eyeing the door suspiciously. "How do I know you're really the police and not the intruder?"
"Well, you could open the door and take a look at me in uniform."
"No way. Slide your badge under the door or something." That's what they did in the movies, right?
"Come on, Erin. Open the door."
"No. And how do you know my name?"
"The police department has all kinds of useful information, like who lives where. Either that or I'm psychic."
I made a face at the door. Did I know this guy? His voice was familiar somehow, but I couldn't think of who it could be. "I'm not in the mood for jokes."
"You never did have much of a sense of humor. Now come on out and see me in uniform. I think you'll be impressed. The ladies usually are."
My jaw dropped. Who on earth was this? Curiosity got the better of me, and I threw the covers off and jumped out of bed. In front of the door I paused for a second, my hand on the handle, thinking that if it was a scary hairy madman I'd be ready to give him a great big grand battement to the balls. Then I turned the handle and yanked it open.
Oh dear.
Oh dear.
The crazy thing was, he was so handsome I had the fleeting thought this whole burglary thing was a hoax and this "cop" was actually a stripper. For a second I just stared at him, half expecting him to rip open his shirt at the chest and start gyrating.
Confession: I really, really wished he would. (For a couple of reasons.)
But he didn't.
"Have I changed that much, Red?"
It hit me. "Oh my God. Charlie Dwyer. You're a cop?"
He smiled, and if he hadn't been such a turd when we were younger, I might have melted right there at his feet. As it was, I could only shake my head in disbelief at this nightmare—not only had more than two thousand dollars' worth of electronics been stolen from my townhouse while I was upstairs getting myself off, but here to protect me was the bully next door who'd kidnapped my hamster for ransom and held up my charity lemonade stand with a Taser. And he was drop-dead gorgeous! Where was the justice in the world?
 GIVEAWAY
About the Author
Melanie Harlow likes her martinis dry, her lipstick red, and her history with the naughty bits left in. She lifts her glass to readers and writers from her home near Detroit, MI.
Website:        http://www.melanieharlow.com/
Facebook:   https://www.facebook.com/AuthorMelanieHarlow
Goodreads: https://www.goodreads.com/author/show/7095467.Melanie_Harlow?from_search=true
Twitter:           https://twitter.com/MelanieHarlow2