When Tucker Branch, playboy heir to Branch Bolt and Screw, screws and bolts a week before their wedding, Mia Devine wants nothing more than to crawl under her newly monogrammed sheets and plan a funeral for her dignity. But her friends convince her that bitter tastes better when it's drowned in Bordeaux, so Mia grits her teeth and packs her bags, determined to make the best of her luxurious Paris honeymoon—alone.
She never planned on meeting Lucas Fournier.
The easygoing bartender's scruffy good looks and less-than-sympathetic ear annoy her at first, but when she takes him up on his offer to show her around the city, she discovers that the romance of Paris isn't just a myth.
Nor is the simultaneous O.
The last thing Mia needs is another doomed love affair, but since she only has a week, she figures she might as well enjoy la vie en O with Lucas while she can. But each day—and night—with Lucas is better than the last, and suddenly her heart is telling her this is more than a rebound fling.
Is it just the seduction of Paris…or could this be the real thing?
BFF K's Review

Mia is a list maker (I can relate). She's a planner. Everything in her life is orderly, picture perfect. She's an event planner and approaches her life with the same precision and detail that executes flawless events. So, being left at the alter is a serious blow her perfectly penciled existence. Her best friends convince her to take the honeymoon trip to Paris solo. Against her better judgement, she escapes to Paris.
Mia collides with Lucas and he sets out to convince her to stay in Paris, embrace the experience and enjoy herself. What comes next is a whirlwind tour of Paris and a love story that will make your heart beat fast and your toes curl! I suddenly have urges to plan a trip to Paris….




After Mia and Lucas' story, comes Coco and Nick's story. Each book is a standalone, but if you read Frenched NOW, you'll be ready for Forked which just released!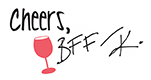 Buy Links
FOR A LIMITED TIME – Buy Frenched, Novella Yanked and Forked as a set!
Or, buy Frenched alone!
Melanie Harlow likes her martinis dry, her lipstick red, and her history with the naughty bits left in. She lifts her glass to readers and writers from her home near Detroit, MI.
Website: http://www.melanieharlow.com/
Facebook: https://www.facebook.com/AuthorMelanieHarlow
Goodreads: https://www.goodreads.com/author/show/7095467.Melanie_Harlow?from_search=true
Twitter: https://twitter.com/MelanieHarlow2