Happily Ever Ninja
by Penny Reid
Publication Date:
Genres: Adult, Contemporary, Romance, Humor
Purchase: Amazon | Barnes & Noble | Kobo | iTunes
From the USA Today Best Selling Author of 'Truth or Beard'
There are three things you need to know about Fiona Archer… I would tell you what they are, but then I'd have to kill you.
But I can tell you that Fiona's husband—the always irrepressible and often cantankerous Greg Archer—is desperately in love with his wife. He aches for her when they are apart, and is insatiable when they are together. Yet as the years pass, Greg has begun to suspect that Fiona is a ninja. A ninja mom. A ninja wife. A ninja friend. After fourteen years of marriage, Greg is trying not to panic. Because Fiona's talent for blending in is starting to resemble fading away.
However, when unexpected events mean Fiona must take center stage to keep her family safe, her response stuns everyone—Greg most of all. It seems like Greg's wish has come true.
Except… not.
When all is said and done, can Greg handle this new version of his wife? Will his irrepressible cantankerousness push her away? Or can the couple find a way forward without either being forced to step back into the shadows?
This is a full length, 100k word novel, and is the 5th book in the Knitting in the City Series. All books in the series can be read as a standalone except book #1.5
BFF K's Review

Penny Reid warns readers that this is an "odd book" in fact, all of her books are a little weird and that's really what makes them so wonderful. Happily Ever Ninja is unlike anything else that I have read. The story centers around a married couple, their life, love and marriage. The tension in the book does not stem from a death or an illness or an affair. Penny Reid says, this is a book, "about a married couple with none of the cheating, divorcing, or standard plot-lines/tropes." So, I wondered what it could possibly be about….
Happily Ever Ninja is a stunning, heart-warming, introspection of marriage. While Fiona and Greg may not be like every other married couple; she's former CIA, and he works away from home months at a time. There are many, many parts that seem like a snapshot of my marriage and countless others that I know. It feels as though this book is a tribute to marriage, a hymn of praise dedicated to the ups and downs of these complex and essential relationships. I believe it is impossible to read this book without turning the looking glass to your own life. Those in a marriage will see common struggles and successes. Those who are searching for a happy marriage will find a realistic and honest look at the kind of relationship worth striving toward. Happily Ever Ninja does an amazing job of reminding us why the conquest is worth the struggles.
"But, I've yet to meet a monogamous person who is an expert on sex, nor have I ever met a polygamist who is an expert on love. Each marriage is a living thing, just as complex as the two individuals within it."
Fiona is a fantastic heroine. While I was frustrated with Greg's propensity to "save" Fiona when she is clearly more than capable; he has some seriously swoon-worthy moments. His quick wit, overwhelming devotion and that bloody British accent are almost too much. I love being able to check in with all of the amazing women from the Knitting in the City series. It feels like meeting up with a group of girlfriends I haven't seen in months. Every book in this series leaves me more anxious for the next.
Penny Reid is a master of writing relationship-driven romance novels that are smart, funny, unique and completely unexpected. Happily Ever Ninja is another book on my list of 'must reads' and I will continue telling everyone about this wonderful, witty, unorthodox look at romance, commitment, love and marriage.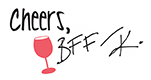 An Advance Copy was received in exchange for an honest review.
Excerpt
I tucked my fingers under her chin and lifted her face to mine, stealing a kiss; true distress clawed at my chest, traveled like a spike down my spine. I didn't want to guess, or entertain any possibilities. Inevitably, my mind always jumped to the worst possible conclusion whenever I saw her inexplicably sad (i.e. brain tumor).
Even so, I attempted to keep my tone level and calm. "What could be too important for the greeting card aisle? It's the perfect place to tell me anything and everything. There's likely a card we can buy afterward for the occasion."
She huffed a laugh, laughed a bit more, and then began crying again.
Her laughter was a good sign, so I went with it.
"Let's see . . ." I shuffled us both to the rack and plucked a greeting card from it. "You tell me if this one describes your situation." I cleared my throat and began to read, "Dear Brother, Many blessings on your fortieth birthday. May your girlfriend bring home that hot girl she works with and suggest a three-way."
Fiona began laughing in earnest, burying her face against my chest.
I returned the original card, walked us a few steps farther down the aisle, and selected another card at random. "Here's another. Dear Friend, Thank you for your thoughtfulness. I am so lucky to have you in my life, especially after that time I hit you with my car and salted the earth around your house.
I cracked a smile as I grabbed another card. She was laughing so hard she could barely breathe.
"Dear Co-worker, Get well soon. Sorry about the scorpions in your bed. And the leprosy. And the chlamydia."
"Stop! I can't- I can't breathe." Fiona gripped the front of my shirt as though she needed my solid frame to remain upright.
I took one more step and picked a new card. "Dear Dad, Happy Father's Day. I know I'm not your favorite child, but I hope you will . . . you will . . ." I stopped reading because Fiona had stopped laughing.
In fact, she'd grown eerily still, though her fists remained anchored in my shirt. I don't think she was even breathing.
"Fe?"
She released an audible exhale—as though bracing herself—and titled her head back. New tears shone in her eyes and she looked . . . emotional.
Not sad. Not worried or scared. Just emotional.
And I knew.
"I'm going to be a dad," I said.
She nodded, her mouth wanting to smile but her eyes betraying the disordered chaos of her thoughts.
I had no idea what she was thinking.
I had no idea what I was thinking.
But I felt like I'd just been punched, slapped across the face. And it felt scary. And good.
I felt like I was the king of the universe, the luckiest man alive.
I felt panic, because I didn't know how to be a dad, at least not the kind I wanted to be.
I felt a bizarre surge of pride, of accomplishment.
I felt a heady wave of possessiveness, for this woman I loved, for the child we'd made. I felt responsible.
But I did not feel burdened.
And I knew nothing would ever be the same.
About the Author
SEX! It all started with sex, between my parents. Personally I don't like thinking about it, but whatever works for you is a-ok with me. No judgment. The sex happened in California and much of my life also occurred in that state until I moved from the land of nuts (almonds), wine, silicon… boobs, and heavy traffic to the southeast US. Like most writers I like to write, but let's get back to sex. Eventually I married and gave birth to 2 small people-children (boy-6, girl-4 as of this writing).
By day I'm a biomedical researcher with focus on rare diseases. By night I'm a knitter, sewer, lino block carver, fabric printer, soap maker, and general crafter. By the wee hours of the morning or when I'm intoxicated I love to listen to the voices in my head and let them tell me stories. I hope you enjoy their stories.