Ready for another round?
Ava Grace Landy's music career is humming along until a shakeup at her label jeopardizes her recording contract and curses her with the world's worst boss. Determined to satisfy him, she partners with Trinity Distillery to access a larger male audience. To her surprise, she's the one who's satisfied—by none other than Jonah Beck, the gorgeous, yet gruff man behind the bourbon.
No doubt about it, bourbon runs in Beck's blood. But it's audacious Ava Grace who makes it run hot. When she signs on as the spokesperson for his craft distillery, he doesn't plan on hoisting her onto an oak barrel and rocking the rickhouse. Though he's convinced their lives don't mix—like a terrible cocktail—he can't keep his hands off the alluring country star.
Ava Grace and Beck try to keep their intoxicating relationship private, but the glare of her fame is too bright, revealing secrets they both want to remain hidden. With a spotlight shining on his tumultuous past, their future is at risk. Now they must decide if being together is worth sacrificing the career she loves and the company he's poured his heart and soul into.
Buy Barreled Over (Trinity Distillery Book #1) on Amazon
BFF K's Review of Barreled Over

I think that Jenna Sutton is one of the most overlooked authors in the Romance genre! I have absolutely LOVED every book of hers that I've read. Her characters are delightful and well developed. Her stories are well written and emotionally charged. I smile and swoon and even tear up a little every time I get lost in one of her books. Barreled Over is another great example of her terrific work!
Ava Grace is a country music star, but she's also a friend and a daughter and a really wonderful, down-to-earth woman. To appease the new leadership at her record label, she agrees to an endorsement deal with an up and coming bourbon company. Jonah Beck is one of the owners of Trinity Distillery and a good man with a fractured past. He is drawn to Ava Grace, but reluctant to pursue her until he just can't resist anymore. Both characters are struggling with their pasts and trying to build solid futures. It ends up that they're just about perfect for each other.
I enjoy a book where every character has likeable features. Since this is the start of a series, there are lots of new characters introduced and they're all interesting and enjoyable. I loved Ava Grace and Beck and I can't wait for the next book in the Trinity series! I recommend Barreled Over or any of the other great books by Jenna Sutton!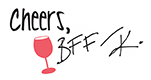 An advance copy of this book was received. Receipt of this copy did not impact the content or independence of this review.
BFF K's Review of other Jenna Sutton Books
Riley O'Brien and Co. Novellas
About the Author
Jenna Sutton is the author of the Riley O'Brien & Co. romances. She is a former award-winning journalist who traded fact for fiction when she began writing novels. Surprisingly, the research she conducted for her articles provided a lot of inspiration for her books. Jenna has a Bachelor's degree in Journalism from Texas Christian University and a Master's degree in Integrated Marketing Communications from Northwestern University. She and her husband live in Texas in a 105-year-old house affectionately known as "The Money Pit". You can find out more about Jenna and her books by visiting www.jennasutton.com.