HANGING BY A THREAD
Jenna Sutton
Thirty-year-old Bebe Banerjee is desperate to get rid of two things: her fiancé and her virginity. Escaping her arranged marriage might be impossible, but she refuses to give her firsts to an entitled jerk who lives on another continent. Instead, she devises a plan that guarantees another man will get her momentous firsts. But she never imagined that man would be Cal O'Brien, the gorgeous heir to the Riley O'Brien & Co. denim empire…
Although Cal has always been fascinated by Bebe's brilliant mind and beautiful eyes, he's never pursued her. She can't stand the sight of him, and every time they're in the same room, they end up trading insults. Yet when he finds out about Bebe's bold plan, he makes his move, unaware of her upcoming nuptials. He promises to make her firsts unforgettable, but he doesn't know how hard it will be to forget her when their arrangement ends.
BUY NOW
BFF K's Review of Hanging by a Thread

Opening another book in the Riley O'Brien Series is like slipping into your most favorite pair of the blue jeans. They just feel right! And, everything about this book feels so right! I desperately hope this isn't the end of this series.
The characters seem like old friends that you want to catch up with; just hang out and have a beer. They're charming, but down to earth and authentic. It was great to check in with Quinn and Amelia, Priest and Teagan, but hands down, Cal and Bebe are my favorite couple in the series. Their wicked tongues and lashing dispositions only mask some seriously repressed attraction. It's like watching the fuse on a bomb slowly light to a MAJOR explosion! Once they come together, the butterflies are constant as you realize what an incredible match they are for one another. Those sharp tongues and quick wits turn into some playful, sexy banter.
I love both Cal and Bebe. Cal is book boyfriend perfection – strong, confident, compassionate, affectionate, head-over-heels in love. He is also a neat freak with a passion for gourmet cooking. See what I mean….PERFECTION! Bebe is a fascinating mix of uber-smart and shockingly naive. Jenna Sutton's writing also manages to take a 30-year-old-virgin and make her NOT annoying! I think that is a feat of writing prowess in itself. In fact, I really really liked Bebe. She's caring, sweet and innocent without being a total pushover. The cultural details surrounding her Indian lineage are interesting and they create layers in the story making this a very unique and engaging plot.
Again, I hope that there will be more to come for the Riley and Co. gang. Hanging by a Thread can be read as a stand-alone, but you'll enjoy all of the other books in this series. Though the price-point on this series is a bit higher than I usually see; I think the quality of writing and interesting storyline makes it worth the extra pennies! I will definitely be recommending this series more often!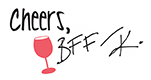 An Advance Copy was received in exchange for an honest review.
Exclusive Excerpt
Check out this Exclusive Excerpt – only on the BFF Book Blog and one of BFF K's FAVORITE scenes in the book! ❤️
Cal checked his phone again. He really needed to see if Teagan had reviewed the contracts he had sent over last week. He had a few minutes before his next meeting, so he headed toward her office. It was located at the end of the hall, and as he got closer, he could hear voices.
The door wasn't closed completely, and he was just about to knock when he heard Bebe's voice. He turned on his heel to head back to his office because he didn't think he had the emotional energy for a verbal duel but froze when one of her words floated to his ears.
"Virgin."
Flattening himself against the wall, he slid closer to the door and peeked through the crack. Bebe stood beside Teagan's desk, and his sister sat on top of it, her eyes intent on her best friend's face.
Cal edged closer and cocked his head so he could hear their conversation better. He ignored the angel on his shoulder warning him that he was going to hell for eavesdropping and gave in to the devil assuring him that this was worth hearing.
"It's unnatural!" Bebe exclaimed, throwing up her hands. "Do you know any other thirty-year-old virgins?"
Cal frowned. Who was a thirty-year-old virgin? And why was Bebe so upset about it?
"It's not unnatural," Teagan replied. "And it's probably more common than you think. A lot of women want their first time to be special so they wait until they find the right guy."
"I don't care if my first time is special, and I don't care who the guy is! I just want to lose it! As soon as possible!"
Holy shit! Bebe is a virgin?
Cal shifted and used the tip of his finger to push open the door a little more. He didn't want to miss a word of what Bebe had to say.
"Why are you suddenly so determined to lose your virginity?" Teagan asked. "Did you just wake up and say to yourself, 'I don't want to belong to Club Virgin anymore'?"
Bebe made a growling noise, and damned if she didn't sound like a rabid dog. "Why am I even talking to you? You're having so much sex, I'm surprised you can even walk. And I'm never going to eat anything that's been made on your kitchen island since you and Nick have sex there all the time!"
Cal winced. He definitely could have done without hearing that. And he agreed with Bebe. He wasn't going to eat anything prepared on Teagan's kitchen island, either.
"I always clean it with bleach afterwards," Teagan choked out between giggles.
"I've never even been kissed," Bebe wailed, and Teagan's laughter died in her throat.
"What?"
"I've never been kissed," Bebe repeated huskily.
Bebe had never been kissed? What the hell is wrong with all the guys on this planet?
Teagan stood and wrapped her arms around the shorter woman. "Oh, sweetie, it's okay."
"It's not okay," Bebe disagreed, her voice muffled against Teagan's shoulder.
Cal could tell she was crying, and he dropped his head back against the wall. Much to his surprise, he was overwhelmed with the urge to comfort her. He had no doubt he could have made her feel better.
Check out BFF K's Reviews for some of the other Riley O'Brien & Company novels
Giveaway
About the Author
Jenna Sutton is a formeraward-winning journalist who traded fact for fiction when she began writing novels. Surprisingly, the research she conducted for her articles provided a lot of inspiration for her books.
Jenna is the author of the Riley O'Brien & Co. romances including All the Right Places and Coming Apart at the Seams. She has a Bachelor's degree in Journalism from Texas Christian University and a Master's degree in Integrated Marketing Communications from Northwestern University.
Jenna and her husband live in a 103-year-old house in Texas affectionately known as "The Money Pit". You can find out more about her and her books by visiting www.jennasutton.com.