Enter to Win a
$10.00 Amazon eGift Card
A NEW YORK KIND OF LOVE
Synithia Williams
Released Dec 15th, 2015 (Print)
Released Jan 1st, 2016 (Digital)
Bright lights, big passion…
Winning an all-expenses-paid weekend in New York with Hollywood's sexiest heartthrob makes Faith Logan the envy of women everywhere. This small-town nurse has too many responsibilities, including caring for her aging parents, to be interested in fame or status. But as the sensual celebrity escorts her to exclusive Manhattan nightclubs and glitzy movie premieres, Faith is falling fast for the genuine, charismatic man behind the slick media image.
More used to fanatics and groupies, Irvin Freeman is surprised and intrigued by Faith's down-to-earth personality. One impulsive kiss turns their private flirtation into public news. But paparazzi and crazed admirers are making her doubt their potential as a couple. Will the pressures of fame cause their love to fade before he can convince her they've found their own real-life happy ending?
 BUY NOW
BFF K's Review

A New York Kind of Love is a sweet, fun, steamy, story. It's a light and enjoyable quick read that's quite fulfilling.
Irvin is the "it" celebrity of the day with an entourage and schedule packed daily by his high powered publicist. In an effort to raise money for his favorite charity, he offers the chance to spend an action packed weekend in NYC – with him! Faith is the somewhat-reluctant winner of the weekend. She's a small town girl, hard working and dedicated to her family. She takes the opportunity for a weekend away and a little time to focus on herself.
Fate has other ideas and soon Irvin and Faith are caught up in an attraction they can't fight. But, will attraction and fate be a strong enough foundation to hold the two together?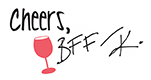 An advance copy was received in exchange for an honest review.
BFF's Dream Casting
Excerpt
"Is this your first vacation since going home?"
She nodded. "It is. I still can't believe that I won. I only signed up because my friend insisted and because the proceeds benefitted alcohol awareness. I saw so many patients come into the hospital who were suffering from alcohol abuse. Still, I never expected to win the contest."
"So the possibility of a date with me had nothing to do with you entering?"
She sipped her champagne and gave him a shy look from the corner of her eye. "I will admit the fantasy of it all did have some appeal."
He raised his brows and chuckled. "Some appeal. Wow."
"Oh, come on. What do you want me to say?" she asked with a laugh. "That I stayed up every night praying that I'd be chosen?"
"Not quite that, but surely you were somewhat excited."
"See, that's the problem." She pointed a finger at him, but her brown eyes flashed with humor. "You're used to women throwing themselves at you. This weekend will be good for you."
"How so?"
"You need a few days with a woman who isn't trying to get something out of you. I'm more excited about seeing the city, going to a movie premiere and trying on clothes I wouldn't be caught dead in back home than in seducing the movie star."
He placed his arm on the back of her chair, making sure to let his hand brush across her shoulders, and moved closer to her. Her eyes widened and her full lips parted with a quick breath before she looked away and finished the rest of the champagne in her glass. She might talk a big game, but Faith was attracted to him as well.
"That's the third time you've said that. Who are you trying to convince?"
"You. I know what you're up to, sliding close to me and giving me the sexy voice and eyes routine."
"You think my voice is sexy?" he asked, lowering his voice an octave.
She shook her head and laughed. "Don't go all Barry White on me."
"I'd like to go all Irvin Freeman on you," he said in his regular voice. Though he tried to keep the tone light, some of his seriousness came through.
Her smile faltered, and he saw by the warming of her eyes and the catch of her breath that she heard it.
"Is that what you do with your leading ladies?"
Her soft, sweet drawl slid in beneath his skin and heated his insides. It had gotten thicker with her question. How thick would it get if he were deep inside her?
"What I do with my leading ladies is acting. I'm not acting right now. What I'm thinking and feeling is all real."
She shifted in her seat. "I don't believe you."
"Then believe this."
He lowered his head and pressed his lips against hers, with enough firmness to let her know he was serious, but lightly enough for her to pull away if she didn't want the kiss. Her body shook, and her lips parted with a gasp. He wasn't a man to pass up an opportunity, and he took the chance to deepen the kiss.
He'd never believed in electricity or sparks igniting when a man kissed a woman, but something he'd never felt before happened as he kissed her. His skin tingled, the blood rushed through his veins, his senses heightened to everything around them. The sweet scent of her perfume, the softness of her lips, the way she tasted of champagne, all seemed amplified. And like a man who'd gotten a taste of something he really liked, he dove in for more.
Giveaway
About the Author
Synithia Williams has enjoyed romance novels since she was 13 years old, so it's no surprise that she began writing her own. When she isn't reading or writing, she's working on water quality in the Midlands of South Carolina. She lives with her husband, Eric, and two boys.