Skylar Nixon is a twenty-seven year old failed actress with no Plan B. After a humiliating stint on a reality TV show crushes what's left of her childhood dream, she finds herself back in her hometown with no money saved, no college degree, and no confidence she's anything but a joke—a small town starlet who couldn't hack it in the big city.
When she runs into former classmate Sebastian Pryce, she can't believe the hot body and chiseled jaw belong to the shy, troubled loner she knew ten years before. He's not exactly friendly at first, and she's heard the rumors about his tragic past, but something in his sad eyes intrigues her. She only wants to get to know him better.
Until the night she wants more—and takes it. (Hard and deep. Twice.)
Are they just two lonely people seeking solace? Or can a disgraced beauty queen and flawed, frustrated man find some sort of happy ever after?
**SOME SORT OF HAPPY is a full-length, dual POV novel, complete with a happy ending.**
BFF K's Review

I absolutely adored Skyler and Sebastian's story; I have a feeling this is a book that will stay with me for awhile. The story is romantic and sweet, funny and poignant. I had butterflies and all the feels!
Skyler has had a rough go. She finds herself back in her hometown feeling more than a little beat up and lost. She's struggling to find herself and determine what the future should hold for her. Skyler encounters a super-hot, somewhat mysterious man who she discovers is a former classmate all grown-up. I loved Skyler and her search for herself was honest and relate-able. Her compassion and love for Sebastian are heart-warming and endearing.
And, Sebastian….He deserves all of the good things. He's this incredible mix of vulnerable and strong, dominant and bashful, demanding and needy. He has a challenging life and his personal demons threaten his happiness and his life with Skyler. There was a fair amount of angst involved with learning his story and watching the ups and downs his character experienced. I have so much love for Sebastian. He's one of the most wonderful, complex characters I've encountered in recent reads.
Some Sort of Happy is another solid work from this author. Melanie Harlow consistently delivers great characters, interesting stories, heartfelt emotion and more than a few scenes that steam things up!  I really had no idea what to expect from the plot of this story and I found that it exceed all my hopes. (The cameo appearances of Mia and Lucas from Frenched were a fun surprise!) I love the story and these characters. This book ended on such a happy note for the pair and I can't wait to see what the next book brings about for their lives and love!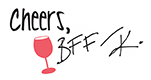 An ARC was received in exchange for an honest review.
Giveaway
About the Author

Melanie Harlow likes her martinis dry, her lipstick red, and her history with the naughty bits left in. When she's not reading good books, she gets her kicks from TV series like Game of Thrones, Boardwalk Empire, Masters of Sex, Deadwood, Mad Men, and Downtown Abbey (although she wishes it were more HBO and less PBS). Melanie is the author of the FRENCHED contemporary romance series (FRENCHED, YANKED, FORKED) and the sexy historical series SPEAK EASY (SPEAK EASY, SPEAK LOW), set in the 1920s. She lifts her glass to romance readers and writers from her home near Detroit, MI, where she lives with her husband and two daughters.