BLUSH FOR ME by Kristen Proby
New York Times bestselling author Kristen Proby continues to delight the senses with the latest novel in her delectable Fusion series.
As the take-charge wine bar manager of Seduction, Portland's hottest new restaurant, Katrina Meyers is the definition of no-nonsense, and she isn't afraid of anything. Well, almost anything: she hates to fly. When she's forced to travel on a death trap with wings, the turbulence from hell has her reaching for any safe haven—including the incredibly handsome guy sitting next to her.
Ryan "Mac" MacKenzie hasn't been able to get his sexy seatmate out of his head. The way she clung to him stirred something inside him he didn't think existed: tenderness. As the owner of a successful wine touring company, Mac thinks he's got a handle on what life can throw at him and he's not prepared for any surprises, especially in the feelings department. And when he brings a tour into Seduction, he sees the petite spitfire he just can't forget.
Mac is determined to discover what else they have in common besides fine wine and the inability to keep their hands off each other. But what will it take for two stubborn people to realize that what they have is so much more than a hot chemistry between the sheets and to admit to falling in love…?
Order Your Copy Today!
BFF K's Review of Blush for Me

I anxiously await each new release in the Fusion Series. I am confident that Kristen Proby will deliver a solid romance with a self-assured, capable, female heroine and a swoony, thoughtful alpha-hero. Blush for Me is a terrific continuation to this excellent series.
Kat is my favorite kind of heroine. She's smart, confident and a little quirky. She's not on-the-hunt for a man but can't resist when Mac whooshes into her world. Mac is my favorite type of hero. He is strong, capable, gallant and not intimidated by a woman who possesses similar qualities. He is also an absolute ALPHA in the steamy scenes. And, those steamy scenes are fantastic!
Blush for Me is a quick and fulfilling, character-driven story with excellent supporting characters that surround the hero and heroine. The story has a suspenseful element that spices things up toward the end and brings the book to a very fulfilling conclusion. I definitely recommend all of the books in the Fusion Series. AND to top it off, the audio version features Abby Craden and SEBASTIAN YORK. It's a GREAT listen; and you should definitely add Blush for Me to your TBR/TBL list!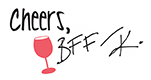 An advance copy of this book was received from the author. Receipt of this copy did not impact the content or independence of this review. The reviewer purchased a copy of the audiobook.
And Don't Miss the First Two Standalone Novels in the Fusion Series!
Read BFF K's 4.5 Rated Review of Listen To Me

Read BFF K's 4.5 Rated Review of Close To You
Excerpt
"You're going to have a great time." She hugs me close. "There are lots of signs and people to ask if you get lost in there, but it's not a big airport, so you should be fine. Call me when you get there."
                  "If I get there," I say and sigh deeply. "Why do I feel like I'm never going to see you again?"
                  "Because you're being dramatic," she replies and smiles brightly. "Have fun!"
                  And with that, she waves and drives away and I'm left alone to figure out this airport hell.
                  But Riley was right. Checking in and dropping my bag off is easy. Finding security is easy.
                  Getting frisked by the TSA guy would have been more fun if he'd looked like Charlie Hunnam, but then again, everything would be more fun with Charlie.
                  I follow the signs, find my gate, and am pleasantly surprised to find a bar directly across from it.
                  There is a god.
                  But once at the bar, I'm just too nervous to drink.
                  That's a first.
                  Who in the hell gets too nervous to drink? This girl, apparently.
                  So I wander back to the gate and pace, dragging my small black hard-sided suitcase with red cherries on it behind me. People glance my way, but I ignore them. I'm used to it. You don't dress the way I do, covered in sleeve tattoos, and not get looks.
                  Finally, my flight is called and they begin boarding. Before I know it, I'm sitting on the plane, three rows from the front—if I'm going to die, it's going to be in first class—in the aisle seat.
                  "Hello," the man next to me says. I glance his way, taking in his light brown hair and green eyes, and if we were anywhere but here, I would totally flirt with him.
                  But we're on a motherfucking airplane.
                  "Hi," I reply and swallow hard. The flight attendant asks us if we'd like anything to drink before we take off, but I shake my head no and stare at the pilot sitting in the cock pit. "Don't they close that door?"
                  "Right before we take off," my travel companion says. I'm surprised that I spoke aloud. "Hey, are you okay?"
                  "Fine."
                  He's silent for a moment and I keep staring at the pilot. I want to march up there and tell him to make sure that we get there in one piece. What are his credentials, anyway? I want to see his license, and a few letters of recommendation wouldn't hurt either.
                  "I'm Mac." I slide my eyes to him and nod, then whip my gaze back to the front.
                  "Kat."
"Wicked hot, charming, and wittingly captivating. Kristen Proby made me blush several times reading this sexy love story."
~Audrey Carlan, #1 NYT Bestselling Author
 Giveaway
About the Author
New York Times and USA Today Bestselling author Kristen Proby is the author of the bestselling With Me In Seattle and Love Under the Big Sky series. She has a passion for a good love story and strong, humorous characters with a strong sense of loyalty and family. Her men are the alpha type; fiercely protective and a bit bossy, and her ladies are fun, strong, and not afraid to stand up for themselves.
Kristen lives in Montana, where she enjoys coffee, chocolate and sunshine. And naps.