Ambition. Lust. Sacrifice. Politics just got a whole lot sexier.


Grace Colton's life is a blur—security, appearances, and a desperately fast ramp-up to Election Day. Political consultant Jared Rankin is pulling the strings to win the White House with the Conover-Colton ticket.
But the fragile relationship Grace and Jared forged could be ruined by secrets traded for political leverage. She's hiding her new relationship with Jared from the public, and concealing a deeper secret from everyone.
When Grace reveals the explosive truth to her running mate, squeaky-clean Senator Conover must confront his own haunted past. Grace's future—and their campaign—could be ruined by the lies meant to protect what they love most.
Peek behind the curtain and under the covers in this sexy political drama that exposes the true cost of ambition, lust and sacrifice.
The Phoenix Campaign is an erotic romance set in the world of presidential election politics. Recommended for mature readers due to sharp dialogue, wickedly hot sex, and a few delicious taboos. This full-length novel is second in a series but can be read as a standalone.
The Phoenix Candidate:
BFF K's Review

I love a book that reads like a movie or mini-series and that's just what I feel when I read The Grace Colton novels by Heidi Joy Tretheway. When said book contains smart political dialogue, interesting political strategy, unexpected plot twists, great characters and some super steamy scenes — sign me up! This book caused some serious sleep deprivation. I was up late 2 nights in a row anxiously turning the pages to see what happens next for Grace and Jared. Heidi Joy Tretheway's  sharp and savvy writing absolutely captures the feel and flow of a real-life political campaign!
I won't go into many of the plot details because that would be super spoilery for anyone who hasn't yet read Book #1, The Phoenix Candidate. The Phoenix Campaign – Book #2 picks up right where the first one left off. Grace finds herself in a HUGE, high profile, heated political campaign. At the same time, she finds herself in a huge, SECRET and heated relationship with a top political strategist. The tug and pull of everything in her life creates a wonderful, angst-driven story where you just want there to be resolution….soon.
If you like politics at all, even a little bit, this is the series for you! I'm loving Grace and Jared and honestly can't wait to read The Phoenix Decision to see what happens next!
Read BFF K's Review of The Phoenix Candidate.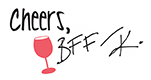 Now I can't wait until The Phoenix Decision!!!
About the Author:

Heidi Joy is a sucker for campfires, craft cocktails, and steamy romance in books and real life. She sings along with musicals (badly), craves French carbs, and buys plane tickets the way some women buy shoes.
Her first career as a journalist took Heidi behind the scenes with politicians, rock stars, chefs, and detectives, all of whom inspire her stories. Heidi Joy is currently working on her eighth book from her home in Portland, Oregon. She adores hearing from readers at author.heidi@gmail.com.
Website | Facebook | Amazon Page | Goodreads | Twitter | BN | Newsletter signup
Enter Heidi's giveaway!!