Today we are sharing the release of TINFOIL HEART by Daisy Prescott. Tinfoil Heart is a Romantic Comedy, standalone title. Check out the buy links below and a chance to win a signed paperback and a Tinfoil Heart box of fun!
Purchase Now
Follow Daisy's newsletter for exclusive news and giveaways!
Tinfoil Heart by Daisy Prescott
Now Available!
A new romantic comedy about love, letting go, and little green men from USA Today Bestselling author Daisy Prescott.
My father was abducted by aliens.
Or so I believed for the last eighteen years.
After my mother's death, I moved to Roswell, capital of all things alien. I'm going to find out the truth and nothing will stop me . . . except Boone Santos.
Compared to the intergalactic tinfoil hat brigade, he's a god amongst mere mortals. Too handsome for his own good (and mine), with a grumpy arrogance, and the most beautiful smile ever—he smashes my plan to pieces like a UFO crashing into the desert.
I need a tinfoil hat for my heart.
Do I believe in aliens? I'm not sure.
What do I believe? I'm not going to fall in love with Boone. Definitely not . . .
BFF K's Review for Tinfoil Heart

Tinfoil Heart is another out of this world story from Daisy Prescott! (See what I did there?!? 😉) I love this book so much, it's just everything…..Unique, sweet, smart, interesting, fun, funny, quirky, perfection! It's classic Daisy Prescott with a twist!
Daisy writes wonderful, sweet, emotional, feel-good romances. Tinfoil Heart is another shining example, but this time with an unconventional bent. The book has a unique setting – both geographic and plot driven. Roswell, New Mexico (both its' people and its' history) is practically a character in the book as it plays such an integral part in the story. Now, I have a travel bug that seems to be drawing me toward New Mexico for an upcoming vacation!
Lucy is a fantastic heroine. She's complex and emotional. Her family history has left a mark and caused her to guard her heart. Boone is steady and consistent, loyal and strong. He is Lucy's perfect match!
The whole book is fun and thoroughly entertaining. But, the ending is probably my favorite part! Or, I should say the endingS are my favorite part! That's right, you get TWO different endings, one for skeptics and one for believers. I am firmly in the believer category, but I loved the skeptics ending just as much! This is just another example this extraordinary story!
Fresh, fun, and swoony; I loved Tinfoil Heart and I think you will too! When you finish, come back and let me know if you're a skeptic or a believer.
BFF Book Blog uses a set of icon ratings. This book received additional ratings for: romance, hero, heroine, sweet, character development, world creation, butterflies and funny.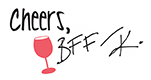 An advance copy of this book was received. Receipt of this copy did not impact the content or independence of this review.
Giveaway
Enter Daisy's New Release Giveaway!

———-

About the Author


USA Today Bestselling Author Daisy Prescott writes romantic comedies about real love.
Her Modern Love Stories feature characters in their thirties and forties finding and rediscovering love in unexpected and humorous ways. Her Wingmen books star regular guys who often have beards, drive trucks, and love deeply once they fall. Daisy's Love with Altitude latest small town, rom com series is set in Aspen, Colorado. Bewitched is a magical serial set in Salem, Massachusetts. Don't miss her standalone, Tinfoil Heart, a rom com about love, letting go, and little green men.