From subway to Broadway to happily ever after. Modern love in all its thrill, hilarity, and uncertainty has never been so compulsively readable as in New York Times and #1 international bestselling author Christina Lauren's (Beautiful Bastard, Dating You / Hating You) new romance.
Marriages of convenience are so…inconvenient.
For months Holland Bakker has invented excuses to descend into the subway station near her apartment, drawn to the captivating music performed by her street musician crush. Lacking the nerve to actually talk to the gorgeous stranger, fate steps in one night in the form of a drunken attacker. Calvin Mcloughlin rescues her, but quickly disappears when the police start asking questions.
Using the only resource she has to pay the brilliant musician back, Holland gets Calvin an audition with her uncle, Broadway's hottest musical director. When the tryout goes better than even Holland could have imagined, Calvin is set for a great entry into Broadway—until his reason for disappearing earlier becomes clear: he's in the country illegally, his student visa having expired years ago.
Seeing that her uncle needs Calvin as much as Calvin needs him, a wild idea takes hold of her. Impulsively, she marries the Irishman, her infatuation a secret only to him. As their relationship evolves and Calvin becomes the darling of Broadway—in the middle of the theatrics and the acting-not-acting—will Holland and Calvin to realize that they both stopped pretending a long time ago?
BFF K's Quick Review of Roomies

Christina Lauren consistently delivers incredible books. They're full of heart and humor, clever and charming characters and heartwarming storylines. Roomies proves the consistency of this rule! Holland and Calvin are each searching for their own fulfillment. They want to lead meaningful and enjoyable lives, but they're both a little stuck for a variety of reasons.
They come together in a marriage of convenience that quickly becomes a marriage of love and mutual adoration. Their journey to discover themselves and discover each other is absolutely delightful. This was a combo read and listen and both were equally compelling. This title comes with a little higher price point, but it's worth every penny!
An advance copy of this book was received. The reviewer purchased the audiobook copy. Receipt of the advance copy did not impact the content or independence of this review.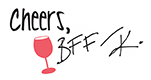 About the Authors
NEW YORK TIMES, USA TODAY AND #1 INTERNATIONAL BESTSELLING AUTHORS
Christina Lauren is the combined pen name of long-time writing partners/besties/soulmates/brain-twins Christina Hobbs and Lauren Billings. The coauthor duo writes both Young Adult and Adult Fiction, and together has produced fourteen New York Times bestselling novels. Their books have been translated into 30+ languages.
You can find them online at ChristinaLaurenBooks.com or at @seeCwrite (Christina), @LolaShoes (Lauren), or @ChristinaLauren on Twitter.