Counting on You (Amarillo Sour #1)
By Laura Chapman
Genre: Romantic Comedy
Age category: Adult
Release Date: 28 August 2018
Is love worth the risk?
Math teacher Haleigh Parde has no desire to change her single status until she receives an invitation to her high school reunion. With her ex spreading rumors she needs a date and fast. Desperate times call for desperate measures and Haleigh finds herself meeting a blind date at a neighborhood bar called Amarillo Sour . . .
After watching Haleigh crash and burn, app developer Ian Henning makes her a proposition. If she'll provide honest feedback on his new dating app, he'll guarantee her a date to knock the socks off her former classmates. Even better, he—and the other Amarillo Sour regulars—will help her navigate the rocky road of dating.
Through setups ranging from awkward to absurd, Haleigh discovers her matchmaker might just be better than the matches. And Ian wonders if she's the answer to everything he's worked for professionally. Or is she something much, much more . . .
You can find Counting on You on Goodreads
You can buy Counting on You here:
Amazon
Barnes & Noble
Kobo
Google Play
iTunes
BFF K's Review of Counting on You

Counting on You is a sweet, fade-to-black romance with a fun cast of characters and an interesting premise. Haleigh needs a date to save face at her high school reunion. More importantly she needs to get back on the dating-horse! When her first blind date is an absolute bust, she draws the attention of one of the patrons at a local dive bar. Ian hatches a plan. Haleigh will help him to test his new dating app and he will guide her through the process. To turn her luck around, Ian enlists the help of the barkeeps and regulars at the Amarillo Sour.
It's all easy peasy until Haleigh and Ian fall for one another.
All in all, I enjoyed the story. I had a few issues with character development and some holes in the narratives. I wanted more. I wanted the characters to be fleshed out better and I wanted the events to flow better. But, overall, I love the storylines and I really enjoyed getting to know the interesting crew of regulars that make Amarillo Sour their home away from home. With such an interesting crew, the potential for more good stories abounds. I'm hoping this is just the start of more good times to come!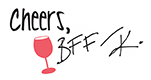 An advance copy of this book was received. Receipt of this copy did not impact the content or independence of this review.
Giveaway
There is a tour wide giveaway for the book blitz of Counting on You. One winner will win a Amarillo Sour Starter Kit, that includes two shot glasses, two coasters, a bottle opener and pens with the bar's logo on them plus a $10 Amazon card. US Only.
For a chance to win, enter the Rafflecopter below:
a Rafflecopter giveaway

About the Author
Laura Chapman is the author of sweet and sexy romantic comedies. A born and raised Nebraska girl, she loves watching football, traveling, crafting, and baking. When she isn't writing her next story, she is probably working at a museum by day and binge-watching Netflix with her cats Jane and Bingley at night. So, basically, she's living large.
You can find and contact Laura Chapman here:
– Website
– Facebook
– Twitter
– Goodreads
– Amazon
– Instagram
– Newsletter