From the author of All of You and Before You Break comes a new Between Breaths male/male romance about the silent, inked up skateboarder and the tattoo artist who unravels him piece by piece…
Tattoo artist Cory Easton has worked long enough at Raw Ink to know, just by looking at a dude, what his body art reveals, what makes him tick, what even makes him scared. Until he meets the quiet and remote Jude York–so unreadable, so unreachable, and so unlike anyone else, he can't help but arouse Cory's curiosity.
As captivating and complex as his ink, Jude is a mystery–and Cory's falling fast and hard under his spell. Against his better judgment to steer clear.
The rumors of Jude's past overshadow him–whispers of prison and an unmentionable secret that's kept him in the protective shadows of a local motorcycle club. As Cory probes deeper, he wonders how much he really wants to know. Especially since Jude has awakened something inside him that has been buried too long–and has him feeling completely alive for the first time in forever…
Includes a preview of Christina Lee's upcoming adult romance Two of Hearts.
BFF K's Review

Full Disclosure – this was my first M/M book. I was a little apprehensive going in, not sure what I could expect from the characters or the storyline. Christina Lee's book proves to me that romance, interesting characters, unique story lines and good dialogue make a great book a great book regardless of the genre.
I really loved this book! I was immediately drawn into Cory and Jude's story. I found myself cheering for both of them and their burgeoning relationship. Cory and Jude both have damaged and difficult pasts. They struggle to come to terms with their pasts both independently and as a couple. They also work together to create a shared future.
The book was a super quick read, sweet and a little steamy. Lee threw in a couple of unexpected plot twists, good supporting characters, and just enough romance and angst to keep me flipping the pages. I will definitely read more from Christina Lee and I will not be afraid to try a M/M book in the future!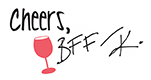 GIVEAWAY
One Winner to receive the following: $10 gift card to the book retailer of their choice = An ARC of my adult romance releasing May 5th, TWO OF HEARTS, and some Between Breaths swag mailed.
a Rafflecopter giveaway

About the Author
Mother, wife, reader, dreamer. Christina lives in the Midwest with her husband and son–her two favorite guys.
She's addicted to lip gloss and salted caramel everything. She believes in true love and kissing, so writing romance novels has become a dream job.
Author of the Between Breaths series from Penguin. ALL OF YOU, BEFORE YOU BREAK, WHISPER TO ME and PROMISE ME THIS available now. Book five in the series, THERE YOU STAND, coming in April, 2015.
Also, her Adult Contemporary Romance, TWO OF HEARTS is releasing on May 5th, 2015.