Capture
by Penny Reid
Hypothesis #3
Publication Date: May 16, 2015
Genres: Contemporary, Humor, New Adult, Romance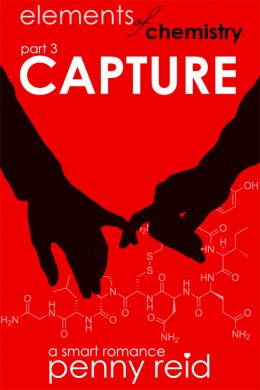 Review

*May be slightly spoilerish.
Capture, Part 3 of the Elements of Chemistry Series is the whipped cream and cherry on top of the perfect sweet treat, I love this series so much!
The story of Kaitlyn and Martin is absolutely wonderful. The characters are smart, unique, and incredibly well developed. I loved reading their personal journeys and the evolution of their relationship. This book has all of the feels of a traditional, romantic, New Adult storyline; but it's written so smartly that you don't necessarily see the next steps unfolding from a million miles away.
Capture is not nearly as steamy as Part 2, Heat. (Though there's a little bit.) 🙂 And, there aren't as many butterflies as the relationship-discovery-phase of Part 1, Attraction. But, Capture brings the angst. I was all angsty because I so desperately wanted Martin and Kaitlyn to reconcile. And, in many ways, I was anxious for Kaitlyn to get over herself and stop being ridiculous. So, I had angst over all of that! I understand that Kaitlyn "lives in her own head" and that it takes her awhile to work through issues in her own way. AND, I still think Kaitlyn is a super smart and well written character. But, it may be that I LOVE Martin so much that I just wanted him to be happy ASAP and Kaitlyn makes him happy. Martin is amazing! He's so smart, sweet, funny, compassionate, loyal, determined and devoted.
Sam, Kaitlyn's roommate makes a return visit in this story and doesn't disappoint and a few other interesting supporting characters are introduced to shake things up as well.
The ending was a wonderful payoff and a terrific conclusion to 3 story series. I LOVE this series so much! (I think I might have mentioned that.) I have recommended it to countless people and I will continue to do so. The Elements of Chemistry Series has secured a position on my Best of the Besties always recommend list!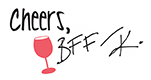 An ARC was provided by the author in exchange for an honest review.
Elements of Chemistry: CAPTURE is the third part in a three part series; it is 70k words. All 3 parts are available NOW!
Part 1 (ATTRACTION)
Part 2 (HEAT)
Part 3 (CAPTURE)
About Penny Reid
SEX! It all started with sex, between my parents. Personally I don't like thinking about it, but whatever works for you is a-ok with me. No judgment. The sex happened in California and much of my life also occurred in that state until I moved from the land of nuts (almonds), wine, silicon… boobs, and heavy traffic to the southeast US. Like most writers I like to write, but let's get back to sex. Eventually I married and gave birth to 2 small people-children (boy-6, girl-4 as of this writing).
By day I'm a biomedical researcher with focus on rare diseases. By night I'm a knitter, sewer, lino block carver, fabric printer, soap maker, and general crafter. By the wee hours of the morning or when I'm intoxicated I love to listen to the voices in my head and let them tell me stories. I hope you enjoy their stories.