Attraction
by Penny Reid
Hypothesis #1
Also in this series: Elements of Chemistry: Attraction, Heat, Capture
Genres: Contemporary, Humor, New Adult, Romance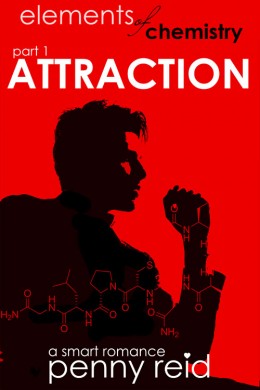 Amazon • Kobo • iBooks • Barnes & Noble
Elements of Chemistry: ATTRACTION is the first part in a three part series; it is 45k words; and it ends with a cliffhanger.
Part 1 (ATTRACTION) will be released April 9, 2015
Part 2 (HEAT) will be released April 30, 2015.
Part 3 (CAPTURE) will be released May 16, 2015.
One week.
Private beach.
Invisible girl.
Jerk-faced bully.
What's the worst that could happen?
Kaitlyn Parker has no problem being the invisible girl, which is why she finds herself hiding in various cabinets and closets all over her college campus. Despite her best efforts, she can't escape the notice of Martin Sandeke—bad boy, jerkface bully, and the universe's hottest, wealthiest, and most unobtainable bachelor—who also happens to be Kaitlyn's chemistry lab partner.
Kaitlyn might be the only girl who isn't interested in exploiting his stunning rower's build, chiseled features, and family's billionaire fortune. Kaitlyn wants Martin for his brain, specifically to tabulate findings of trace elements in surface water.
When Kaitlyn saves Martin from a nefarious plot, Martin uses the opportunity to push Kaitlyn out of her comfort zone: spring break, one week, house parties, bathing suits, and suntan lotion. Can she overcome her aversion to being noticed? Will he be able grow beyond his self-centered nature? Or, despite their obvious chemistry, will Martin be the one to drive Kaitlyn into the science cabinet of obscurity for good?
BFF K's Review

Sent to Penny Reid immediately upon finishing Part 1 – Attraction.
To: Penny Reid
From: BFF K
RE: Groveling
I am sending you this message in desperation. I am begging, pleading, imploring, coaxing, desperately requesting an ARC for Heat. I was one of the very, very, very lucky folks to receive an ARC for Attraction at ABF. I was able to start, and finish, Attraction this afternoon. And, I can't wait. I am beside myself needing to know what happens next.
While I am grateful for the first chapter of Heat in the back of the ARC, (I don't think my heart could have handled the cliffhanger without it.) I need more. I need to know what happens with Martin and Kaitlyn. I just gushed to my blogging partner about how amazing this book is. It is really all of the reasons that I love to read romance books. I need to know what happens. I can't wait.
I feel like I have very little to offer you in exchange for said ARC. Would undying love and devotion suffice? I contemplated offering my first-born child. But….he's the only-child and adopted; and I'm not sure if that meets the standard definitions for first-born. Plus, he's pretty cool and I think I would miss him after a few days…..Even if I have to wait (many more torturous days), I will still look forward to reading Heat and Capture. You're such a talented writer and I'm looking forward to more great stories!
Cheers,
BFF K – BFF Book Blog
Yes, I was that desperate! I wanted the next book so badly I couldn't stand it. This book is phenomenal! Penny Reid is a fantastic writer. She writes complex, interesting, intelligent, quirky and engaging characters that pull you into their lives and their stories.
I called BFF A practically shaking after I finished Attraction. I told her, "this is why I read romance novels." Ahhhh – Kaitlyn Parker is so smart and charming and endearing and wonderful. Martin Sandeke is complicated and worthy of a little redemption. I want to climb in their story and live in the pages. I had butterflies and goosebumps and other animal-ish reactions! I was laughing out loud and grinning like a crazy person!
Attraction left me clamoring for more of Kaitlyn and Martin's story! I'm aching to know what happens next and how they can resolve their issues to find a Happily Ever After in their own unconventional way.
Do yourself a favor and read this book! Do your friends a favor and tell them to read this book! I can't wait to hear what you think about each of the books in this series!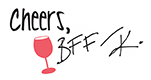 PS – To prove her awesomeness, I received HEAT within a few days of my shameless email request, because the evil-overlord is super cool like that!

Here are the Amazon links to Pre-Order Heat and Capture. After you finish Attraction you're going to want to do this ASAP!
About Penny Reid
SEX! It all started with sex, between my parents. Personally I don't like thinking about it, but whatever works for you is a-ok with me. No judgment. The sex happened in California and much of my life also occurred in that state until I moved from the land of nuts (almonds), wine, silicon… boobs, and heavy traffic to the southeast US. Like most writers I like to write, but let's get back to sex. Eventually I married and gave birth to 2 small people-children (boy-6, girl-4 as of this writing).
By day I'm a biomedical researcher with focus on rare diseases. By night I'm a knitter, sewer, lino block carver, fabric printer, soap maker, and general crafter. By the wee hours of the morning or when I'm intoxicated I love to listen to the voices in my head and let them tell me stories. I hope you enjoy their stories.