From: JosephineKeller@LLDesigns.com
To: LilyNBlack@gmail.com
Subject: Justin Timberlake Nudes!Lily, you predictable perv. I knew you'd open this email faster if I tempted you with a glimpse of JT's "PP". Well, put your pants back on and grab some bubbly because I have much better news to share.
I GOT A JOB!
As of tomorrow, I'll be the new executive assistant at Lorena Lefray Designs. I am SO excited, but there's one itty bitty problem: I won't be Lorena's assistant. I'll be working for her older brother, Julian.
I know what you're thinking- "But Jo, what's the problem?"
Google him. Now. He's the man in the fitted navy suit whose face reminds you that there's hope yet for this cruel, ugly world. Keep scrolling…Do you see those dimples? Yup. That's the Julian Lefray I will be reporting to tomorrow morning.
Lord, help us all…
XO,
Jo
Buy Link
BFF K's Review

This book is R.S. Grey doing what she does best, delivering a sweet romantic comedy with fun characters and story lines that is laugh out loud funny! The Allure of Julian Lefray is a quick read that is packed full of fun and romance. You'll find yourself under the Allure of Julian just as quickly as Josephine. The setting of the book – New York fashion – is fun and fresh. Jo is a fantastic character, I loved getting to see her struggles and successes. Julian is a certifiable hottie with the smarts, charisma and sweetness to make him irresistible.
It's easy to see why Jo and Julian fall for one another and watching them struggle to keep one another at arms length is a fun ride. But, watching them find one another is even better. The characters are really well developed and there is a supporting cast that I absolutely LOVED! In fact, I'm hoping-hoping-hoping that Lily and Dean will get their own book!
Did I mention it's FUNNY? Just two phrases for you: sex dungeon and old-people-orgy.
OMG, I'm wiping away more tears, just thinking about it. So. Good.
One-Click this one TODAY, you'll be so happy you did!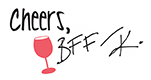 An ARC of this book was received from the author in exchange for an honest review.
PLAYLIST
About the Author
I am a lover of books, chocolate, reality TV, black labs, and cold weather. Seriously, if I had it my way, I would be curled up on the couch with all of those things… everyday.
I live in Texas where I spend my free time writing and reading. My favorite authors include Mindy Kaling & Jonathan Safran Foer. I'm a comedy geek and love all things "funny". Women like Tina Fey, Amy Poehler, and Mindy Kaling are definitely the biggest inspirations for my writing, though I think my work tends to skew a bit smuttier than theirs.