In this finger-licking good rom-com, two is the perfect number of cooks in the kitchen.

Nikki DiMarco knew life wouldn't be all sunshine and coconuts when she quit her dream job to help her mom serve up mouthwatering Filipino dishes to hungry beach goers, but she didn't expect the Maui food truck scene to be so eat-or-be-eaten—or the competition to be so smoking hot.
But Tiva's Filipina Kusina has faced bigger road bumps than the arrival of Callum James. Nikki doesn't care how delectable the British food truck owner is—he rudely set up shop next to her coveted beach parking spot. He's stealing her customers and fanning the flames of a public feud that makes her see sparks.
The solution? Let the upcoming Maui Food Festival decide their fate. Winner keeps the spot. Loser pounds sand. But the longer their rivalry simmers, the more Nikki starts to see a different side of Callum…a sweet, protective side. Is she brave enough to call a truce? Or will trusting Callum with her heart mean jumping from the frying pan into the fire?
Purchase Here
BFF K's Review of Simmer Down
So…..now I just want to fly to Hawaii and eat all of the delicious food. I mean, if we're honest, I always want to do that, but this book really put me in the mood for a culinary adventure mixed with a little romance.
Nikki and Callum are the epitome of enemies-to-lovers. Their bitter feud covers up a really intense attraction….for awhile. When they find themselves thrown together they discover that they can really heat things up in the kitchen and the bedroom. And, the reader is lucky to be along for the ride.
Callum is a terrific Hero. He's caring and reasonable and lets Nikki know how special she is. Nikki is complicated. She listens to Callum but doesn't always hear him. She gets in her own way, a lot. But, you will still root for her and Callum to figure their s@#$ out!
I adore Nikki's mom and Callum's brother. They add depth and spice to the story. But, I can't forget about the real star of the story – the food! Oh the food! The description of countless dishes and their preparation will make your mouth water and have you searching for local restaurants to devour these delicacies. You will literally want to lick up every last drop of this story!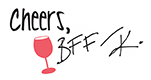 An advance copy of this book was received. The reviewer purchased the audiobook copy. Receipt of the advance copy did not impact the content or independence of this review.
About the Author
Sarah Smith is a copywriter-turned-author who wants to make the world a lovelier place, one kissing story at a time. Her love of romance began when she was eight and she discovered her auntie's stash of romance novels. She's been hooked ever since. When she's not writing, you can find her hiking, eating chocolate, and perfecting her lumpia recipe. She lives in Bend, Oregon, with her husband and adorable cat Salem.