**Previously published in 2013 as THREE TO TANGO in The Unwrapped Anthology, THE TANGO LESSON is a stand-alone novella with a Happily Ever After a Threesome Ending**
You've been warned!
My name is Isabelle, and I'm a smut fiend.
But only when it comes to books.
In fact, for twenty-three years, the only outwardly kinky thing about me was my hair on a rainy day. Compared to the toe-curling, earth-shattering, mind-blowing romps on my Kindle, my sex life was totally vanilla. Less than vanilla, actually—it was vanonexistent.
And then I took a tango lesson.
They say it takes two to tango, but let me tell you–
a tango for three is a hell of a lot of fun.
BFF K's Review

Isabelle Peach is a sweet, innocent, elementary school teacher who celebrates a birthday to remember! When Isabelle meets Marco and Valentina she ends up in the most erotic tango lesson she can imagine. Isabelle is a voracious romance reader and jealous of the bold and sensual women she reads about in her books. For one day, she loses her inhibitions and embraces her smut! It's hard to remember it is just a novella! This little story is dirty and charming all at the same time while pushing the envelope of acceptable behavior. It's a quick, crazy ride wrapped up in Melanie Harlow's distinctive style and characters. And, it's a delicious treat!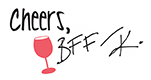 An ARC of this story was received in exchange for an honest review.
Purchase Links
About the Author

Melanie Harlow likes her martinis dry, her lipstick red, and her history with the naughty bits left in. When she's not reading good books, she gets her kicks from TV series like Game of Thrones, Boardwalk Empire, Masters of Sex, Deadwood, Mad Men, and Downtown Abbey (although she wishes it were more HBO and less PBS).
Melanie is the author of the FRENCHED contemporary romance series (FRENCHED, YANKED, FORKED) and the sexy historical series SPEAK EASY (SPEAK EASY, SPEAK LOW), set in the 1920s.
She lifts her glass to romance readers and writers from her home near Detroit, MI, where she lives with her husband and two daughters.
Social Media Links: