From the author of the "clever, creative, and sweetly delicious" (Kirkus Reviews) The Coincidence of Coconut Cake comes a novel about a frustrated wife and mother who hatches a scheme to reignite her marriage—and risks everything in a gamble she hopes is a sure bet.
When Milwaukee-area wife and mother MJ Boudreaux notices her husband Chris seems more interested in the casino than her, she's more bothered that she isn't upset than by her husband's absence. She picks up poker as a way for them to spend more time together—and reignite their marital flame.
Purchase today on Amazon
BFF K's Review of Luck, Love & Lemon Pie

Luck, Love & Lemon Pie is a well-written book with thoroughly developed characters and a unique storyline. It is a women's fiction book and not necessarily the standard romance that I typically read. I enjoyed the story, but was somewhat disappointed that the premise failed to capture my attention or my heart in the same way as Reichert's previous work, The Coincidence of Coconut Cake.
MJ is desperate to reclaim her marriage. She has felt her husband slipping away and she will try anything to re-kindle the spark that used to exist between them. In a somewhat desperate attempt, MJ takes up her husband's favorite hobby. But, soon her plans of spending a few hours next to each other at the poker table dissolve into endless afternoons and evenings sitting solo at the felt. MJ sees her marriage slipping though her fingers and knows there's no way to bluff her way out of the mess she's in.
The strength of Luck, Love and Lemon Pie is the writing. Reichert crafts beautiful sentences and weaves interesting tales from mundane settings. The build-up to MJ's Las Vegas experience is slow-going and Vegas is the most active part of the story. The book was interesting in the way that it accurately paints a picture of the complacency that can settle on a marriage. The book sometimes drags in the same way that the day-to-day tasks of marriage and motherhood can seem to drag as well.
Overall, Luck, Love & Lemon Pie is a solid piece of women's fiction and a relatable read for anyone who has been married for a length of time. If you're looking for a relatively romance-free book that still explores the lives and loves of an interesting female character, this is a good choice.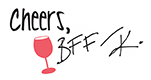 An Advance Copy was received in exchange for an honest review.
Amazon Kindle Preview
About the Author
Amy Reichert earned her MA in Literature from Marquette University, and honed her writing and editing skills as a technical writer (which is exactly as exciting as it sounds). As a newly minted member of the local library board, she loves helping readers find new books to love. She's a life-long Wisconsin resident with (allegedly) a very noticeable accent, a patient husband, and two too-smart-for-their-own-good kids. When time allows, she loves to read, collect more cookbooks than she could possibly use, and test the limits of her DVR.