Title: FU Cancer
Author: Hilaria Alexander
Narrator: Elizabeth Klett
Length: 10 hrs and 44 mins
Release Date: Nov 24, 2016
Lucy has always been a good girl. The most hardcore thing she's done in her life was falling for a divorced man 10 years her senior.
But he was the love of her life, and she married him. When her Peter Pan of a husband decided to divorce her, she thought it was her chance to start anew. That was until she was diagnosed with breast cancer. Besides looking like Britney circa 2007, she is taking it well, real well. You might see her walk around the hospital during chemo sessions with bright colored wigs and outrageous t-shirts that seem to shock the most conservative employees. One of them reads FU CANCER.
BFF K's Review of FU Cancer

Who would have ever imagined that a book with the title, "FU Cancer" would be so funny and so full of hope? Because of my aversion to angst, I had avoided this book though it came highly recommended during its original release. When I was offered the opportunity to review the audio, I took it and I'm so glad I did. This book was nothing like I had imagined it might be.
I put myself in Lucy's shoes quite often as I listened. I imagined what life would be like for me if I was in Lucy's position. Would I handle a cancer diagnosis with the same grace and style (best wigs and t-shirts ever) that she did? (I hope that I would and I also hope that I never find out.) Lucy's world is rocked as the recent divorcee begins treatment for breast cancer. But, she's soon caught off guard by the most beautiful man who is drawn to her for reasons she can't understand. Their relationship is tested by life and her disease. They must determine if what they feel for one another is real and strong enough to go the distance.
Cancer is essentially one of the main characters in the story, but it is not the sole defining element. Working through the diagnosis, treatment and life after cancer with Lucy is scary and a little sad, but it is also uplifting and joyful. I wondered how you could find romance in a story of a young cancer patient undergoing treatment. But, this book is full of romance and love. I think this is a storyline that will be in the back of my mind for quite some time. If you're looking for an emotional read that packs a powerful, positive, thought-provoking punch, I highly recommend, FU Cancer.
AND, Elizabeth Klett does a commendable job as the narrator. I think this might be the first audio I've listened to with her narrations, but I will definitely seek out more! There are so many great reasons to read FU Cancer, be sure to add it to your TBR/TBL (To Be Listened to) today!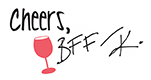 An advance copy of this book was received. Receipt of this copy did not impact the content or independence of this review.

About the Author
Hello! I'm the author of Prude, This Love and FU Cancer.  I was born and raised in Italy but now I live in Oklahoma City with my husband and kids. I love traveling and I'm a self-proclaimed concert addict. If you have questions about me or my books, ask me on Facebook, Twitter and Instagram.