Wealth, fame and a real-life romance she never expected—seventeen-year-old Vaughn Bennett lands it all when she agrees to become a pop star's fake girlfriend in this smart, utterly addictive novel from #1 New York Times bestselling author duo Erin Watt 
Under ordinary circumstances, Oakley Ford and Vaughn Bennett would never even cross paths.
There's nothing ordinary about Oakley. This bad-boy pop star's got Grammy Awards, millions of fangirls and a reputation as a restless, too-charming troublemaker. But with his home life disintegrating, his music well suddenly running dry and the tabloids having a field day over his outrageous exploits, Oakley needs to show the world he's settling down—and who better to help him than Vaughn, a part-time waitress trying to help her family get by? The very definition of ordinary.
Posing as his girlfriend, Vaughn will overhaul Oakley's image from troublemaker to serious artist. In return for enough money to put her brothers through college, she can endure outlandish Hollywood parties and carefully orchestrated Twitter exchanges. She'll fool the paparazzi and the groupies. She might even start fooling herself a little.
Because when ordinary rules no longer apply, there's no telling what your heart will do…
Buy today on Amazon

BFF K's Review of When It's Real

Oakley Ford and Vaughn Bennett could not be more different. At least that's what it looks like to those on the outside. And, it shocks Oakley's Fandom when he begins a relationship with Vaughn. After all, she's NORMAL, just like them. But, the fans don't know that this relationship begins as a set up. It's 100% promotion meant to clean up Oakley's bad boy image. The feelings and emotions shared by Oak and Vaughn are soon very real, but neither quite know what to do When It's Real.
The dynamic duo that is Erin Watt (Jen Frederick and Elle Kennedy) is absolutely fantastic yet again! They have delivered another story with compelling characters and an engaging storyline that will draw you in and leave you wanting more! When It's Real is more of a slow burn than the intense, fast-pace of the Royals Series by Erin Watt. But, the story is interesting and the characters possess the same wit, charm and banter that I expect from these authors.
When It's Real is billed as more of a Young Adult read. The character's ages are definitely YA, however there are a couple of steamy-ish scenes (that I loved) that would prevent me from handing it over to the 16-year-olds I know. I actually wish that the characters would have been a little older and the book skewed New Adult instead. BUT, that being said, I still loved the book.
If you're looking for a wonderful story with characters that you'll fall in love with while they fall in love with each other, When It's Real is a must one-click! I hope Erin Watt plans to write many, many, many, many more books together because I want to read them all!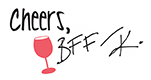 An advance copy of this book was received. Receipt of this copy did not impact the content or independence of this review.

Book Trailer
About the Author
Erin Watt is the brainchild of two bestselling authors linked together through their love of great books and an addiction to writing. They share one creative imagination. Their greatest love (after their families and pets, of course)? Coming up with fun–and sometimes crazy–ideas. Their greatest fear? Breaking up. You can contact them at their shared inbox: authorerinwatt@gmail.com