We're so thrilled to bring you BFF K's Review of Roman Crazy by Alice Clayton and Nina Bocci! You're gonna LOVE this book!

Avery Bardot steps off the plane in Rome, looking for a fresh start. She's left behind a soon-to-be ex-husband in Boston and plans to spend the summer with her best friend Daisy—away from home and licking her wounds…and perhaps a gelato or two. But when Daisy, an American expat now living in Rome, throws her a welcome party on her first night, Avery's thrown for a loop. She falls, quite literally, at the feet of a man she never thought she'd see again: Italian architect Marcello Bianchi.
Marcello is a man from her past—the man, the one who got away. And now her past is colliding with her present, a present where she should be mourning the loss of her marriage and the life she once had and—hey, that fettuccine is delicious.
And so is Marcello…
Avery slips easily into the good life that is summertime in Rome. She spends her days exploring a city that would make art historians swoon, and her nights swooning over a whirlwind what was old is new again romance. It's heady, it's fevered, it's wanton, and it's crazy. But could it really be her life? Or is it just a temporary reprieve before returning to the land of twinset cardigans and crustless sandwiches?
Buy Roman Crazy Today
Barnes and Noble     Amazon     iTunes     Kobo
BFF K's Review of Roman Crazy

This is a dream team! Alice Clayton and Nina Bocci have paired up to deliver an absolutely wonderful, heart-warming, sweet and steamy story of second-chance love. And you need to read it!
The first chapter is so fantastic; this story bursts out of the gates and introduces you to Avery, the fantastic heroine. Her soon-to-be ex-husband and his mother are something else! When her world turns upside down, Avery escapes to Rome and the comfort of her best friend, Daisy. It takes just hours for Avery to get knocked on her a$% (literally) by the one man she thought she would never see again. Enter Marcello, one of my favorite Book Boyfriends of 2016! He's everything you hope for: a strong, sweet, seductive, hunky hero. And, you'll find yourself falling just as quickly as Avery.
Roman Crazy is a wild ride of ups and downs as Marcello and Avery rediscover one another, put their past in its place and determine if and how they can move forward together. The book is chock-full of wonderful supporting characters. The sites, sounds and tastes of Rome are so beautifully described that the city becomes another character in this already superb cast. Roman Crazy is full of romance, friendships and self-discovery. Second-chance love is one of my most favorite Romance tropes and Roman Crazy is one of the best!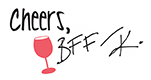 An advance copy was received in exchange for an honest review.

Giveaway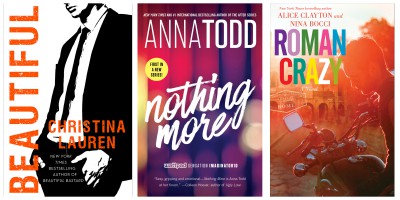 This amazing giveaway is courtesy of Gallery books. Gallery is graciously giving away three print books to one lucky winner. (US only. Sorry!) It's ROMAN CRAZY, NOTHING MORE from Anna Todd and BEAUTIFUL from Christina Lauren!
To enter, comment below and tell us your dream destination for a romantic adventure.
You have from now through September 27 to post a comment on this blog post. The winner will be chosen at random and have 24 hours to respond or another winner will be selected.
About the Authors

Alice Clayton worked in the cosmetics industry for over a decade before picking up a pen (read: laptop). She enjoys gardening but not weeding, baking but not cleaning up, and finally convinced her long-time boyfriend to marry her. And she finally got her Bernese Mountain Dog.
AliceClayton.com | Twitter | Facebook | Goodreads
Nina Bocci is a novelist, publicist, eternal optimist, unabashed lipgloss enthusiast, constant apologist, and a hopeless romanticist. She has too many college degrees that she's not using and a Lego addiction that she blames on her son.
NinaBocci.com | Twitter | Facebook | Goodreads
GALLERY BOOKS is an imprint dedicated to publishing a variety of must-read books on a wide array of topics.  Launched in February 2010, Gallery is designed to showcase established voices and to introduce emerging new ones—in both fiction and nonfiction genres.   Some of Gallery Books' bestselling titles include Still Alice by Lisa Genova, Gunn's Golden Rules by Tim Gunn, Are You There, Vodka? It's Me Chelsea by Chelsea Handler, The Perks of Being a Wallflower by Stephen Chbosky, Beautiful Bastard by Christina Lauren, Mrs. Kennedy and Me by Clint Hill, and The Tucci Cookbook by Stanley Tucci.
Simon & Schuster, a part of the CBS Corporation, is a global leader in the field of general interest publishing, dedicated to providing the best in fiction and nonfiction for consumers of all ages, across all printed, electronic, and audio formats. Its divisions include Simon & Schuster Adult Publishing, Simon & Schuster Children's Publishing, Simon & Schuster Digital, and international companies in Australia, Canada, India and the United Kingdom. For more information, visit our website at www.simonandschuster.com.