Fangirl meets Simon vs. the Homo Sapiens Agenda in this funny and poignant coming-of-age novel from New York Times bestselling author Christina Lauren about two boys who fall in love in a writing class—one from a progressive family and the other from a conservative religious community.
Three years ago, Tanner Scott's family relocated from California to Utah, a move that nudged the bisexual teen temporarily back into the closet. Now, with one semester of high school to go, and no obstacles between him and out-of-state college freedom, Tanner plans to coast through his remaining classes and clear out of Utah.
But when his best friend Autumn dares him to take Provo High's prestigious Seminar—where honor roll students diligently toil to draft a book in a semester—Tanner can't resist going against his better judgment and having a go, if only to prove to Autumn how silly the whole thing is. Writing a book in four months sounds simple. Four months is an eternity.
It turns out, Tanner is only partly right: four months is a long time. After all, it takes only one second for him to notice Sebastian Brother, the Mormon prodigy who sold his own Seminar novel the year before and who now mentors the class. And it takes less than a month for Tanner to fall completely in love with him.
BFF K's Review of Autoboyography

Autoboyography is my most thought about and talked about book of the year! I absolutely can't stop raving about it! Christina Lauren has delivered another incredible story. But, this one rises above even their usual brilliance. It is a sweet, smart, heartwarming and heartbreaking story of young love. But, it is also a captivating social commentary and thought provoking look into the lives and struggles of two not-straight young men growing up in areas where they can not truly be themselves.
Tanner is smart and sensitive. He is surrounded by a loving family and supported by good friends, but there are still parts of himself that he keeps hidden. Sebastian is also smart and caring, and similarly, he has grown up with a great deal of love and support. But, Sebastian is also prohibited from revealing who he truly is. The push and pull and angst-filled journey is exposed in a book within a book. It will grab your heart in a vice and squeeze it so so tightly!
I can't describe how much I LOVE this book. I have told everyone who will listen how great it is. I've bought copies for friends and family. I love the written copy and the audio version. I warn you…I don't believe you can not read this book and come out unscathed. It will carve it's lines in your head and your heart and you'll look at the world just a little differently when you're done. Without a doubt, this is one of my Besties of 2017, worthy of a 6-rated review and you won't regret a minute you spend with this compelling novel.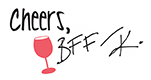 About the Authors
NEW YORK TIMES, USA TODAY AND #1 INTERNATIONAL BESTSELLING AUTHORS
Christina Lauren is the combined pen name of long-time writing partners/besties/soulmates/brain-twins Christina Hobbs and Lauren Billings. The coauthor duo writes both Young Adult and Adult Fiction, and together has produced fourteen New York Times bestselling novels. Their books have been translated into 30+ languages.
You can find them online at ChristinaLaurenBooks.com or at @seeCwrite (Christina), @LolaShoes (Lauren), or @ChristinaLauren on Twitter.