After years of searching Daisy and Owen have finally found each other, only to face the threat of being forced apart. If they are unable to stop Daisy from becoming an Allure, she will forever lose the ability to love.
Desperate to stop the change before time runs out, they must decide what price they are willing to pay to save their love.
BFF K's Review

I've been so concerned about what happened to Daisy and Owen. When we last left them, at the end of Lure, they had been dealt a terrible blow to their happy reunion and were pondering what the future would hold for them. Sadly, Lust, Book #2 in the Allure Chronicles also ends on a Cliffhanger, so Daisy and Owen are still dangling on the edge. But, if it's possible, this edge is even more heartbreaking than before.
I like Daisy and Owen. I will probably read Book #3 when it comes out, because I'm dying to know if she becomes allure or not and if they can find their way to be together forever. This book introduces lots of new characters and a whole new world. It is sometimes a lot to keep straight, but I'm hoping book #3 will work out all the issues.
If you're looking for a paranormal romance series that creates all new kinds of characters, this is a quick read worth checking out!




WARNING: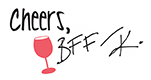 An ARC of this book was received in exchange for an honest review.
Check out BFF K's review of Lure, the first book in the series!
Preface
I had no real choice. Only one answer was acceptable, yet giving it meant losing everything and anything I cared about. It meant losing Owen, and it meant losing myself.
"Daisy?" Owen looked deep into my eyes.
"I love you." I didn't think, I didn't question. I crushed my lips against his, needing to soak up his taste and feel. He responded immediately, deepening the kiss as he wrapped me up in his arms.
Always and forever. Our promised words swirled through my head. Promised words that couldn't possibly be true. But in that moment it didn't matter. The truth couldn't hurt us. Only time could.
About SEDUCTION'S KISS:
Never agree to a road trip to New Orleans with your roommate. At least not when your roommate is dragging you along while she reconnects with an ex-boyfriend. Possible consequences of failing to take my advice:
1) Unknowingly going out with a vampire stripper
2) Getting kidnapped by said vampire's nest mates
3) Falling head over heels for your winged hero
Believe it or not number 3 is the worst one, especially when no one believes you that he exists.
*Prequel novella to Lure (The Allure Chronicles #1)*
About LURE:
There's danger in the beauty…
Two years, six months, and twenty-five days. That's how long it had been since I'd seen my winged hero— not that I'd been counting. I'd suffered through years of counseling just to convince my friends and family that I wasn't crazy and knew he didn't exist.
But he did. And I was done waiting.
Days after college graduation I headed back down to New Orleans to retrace my steps and find Owen again only to find my life was about to get even crazier… thanks to the most beautiful and dangerous of all paranormal creatures, the Allures.
Alyssa Rose Ivy Bio:
Alyssa Rose Ivy is a New Adult and Young Adult author who loves to weave stories with romance and a southern setting. Although raised in the New York area, she fell in love with the South after moving to New Orleans for college. After years as a perpetual student, she turned back to her creative side and decided to write. She lives in North Carolina with her husband and two young children, and she can usually be found with a cup of coffee in her hand.