The first time I met Caine West was in a bar.
He noticed me looking his way and mistakenly read my scowling as checking him out.
When he attempted to talk to me, I set him straight—telling him what I thought of his lying, cheating, egomaniacal ass.
You see, the gorgeous jerk had wined and dined my best friend–smooth talking her into his bed, all along failing to mention that he was married.
He deserved every bit of my tongue-lashing and more for what he'd done.
Especially when that lazy smile graced his perfect face in response to my rant.
Only it turned out, the man I'd just told off wasn't the right guy.
Oops.  My mistake. 
Embarrassed, I slunk out without an apology.
I was never going to see the handsome stranger again anyway, right?
That's what I thought…until I walked into class the next morning.
Well, hello Professor West, I'm your new teaching assistant.
I'll be working under you…figuratively speaking.
Although the literal interpretation might not be such a bad thing—working under Professor West.
This was going to be interesting…

BFF K's Review of Beautify Mistake

Beautiful Mistake is a deeper read than my usual rom-com. It's filled with angst and tension. Caine West and Rachel Martin have so much baggage between the two of them you need a wagon and a flashlight to sort through it all. There is so much tension and sexual frustration, you can feel it seeping out of the pages. They don't like each other. But, yet they do….they really, really do. That back and forth makes up the majority of the storyline. Until about 70% in and you're hit with a bombshell. (More insightful readers might see the twist coming, I was caught by surprise.)
Vi Keeland does an excellent job creating characters that you want to cheer for. You'll want Rachel and Caine to work out their issues and find a way to be together. That back and forth drives you from page to page from the beginning to the end of the book. (The book also has a remarkable, spiritual passage about coincidence that I absolutely love and completely agree with. Visit our BFF Book Blog Instagram to see the teaser image I created for the quote.)
There's plenty of steam and lots of twists and turns to get to the culmination of their journey. In some ways, it almost seemed like all of the issues were wrapped up a little too nicely. In some cases the solutions to the problems in their lives and relationships, seemed a little too cleanly and easily solved. But, if you can suspend that reality, this is an enjoyable read, with an unexpected twist and I highly recommend Beautiful Mistake!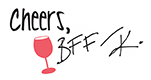 An advance copy of this book was received. Receipt of this copy did not impact the content or independence of this review.
 About the Author
Vi Keeland is a #1 New York Times Bestselling author. With more than 1.5 million books sold, her titles have appeared in over eighty Bestseller lists and are currently translated in sixteen languages. She resides in New York with her husband and their three children where she is living out her own happily ever after with the boy she met at age six.
Website | Facebook Fan Group | Facebook | Twitter | Instagram