"A Love Letter From the Girls Who Feel Everything reminds me of my favorite roller coaster . . . it was such an emotional ride—one I'm willingly going to take over and over again."
– Dee Lagasse, author
A Love Letter From the Girls Who Feel Everything, a beautiful book of prose and poetry, by bestselling authors Brittainy C. Cherry & Kandi Steiner is LIVE!
Bestselling authors Brittainy C. Cherry and Kandi Steiner come together for the first time in an emotional compilation of poetry and prose. Written and collected over the course of more than two years, A Love Letter from the Girls Who Feel Everything is an intimate, honest, and raw assemblage of two women's feelings in a modern world that often quiets any kind of emotion past indifference.
Discussing themes of love, worth, loss and hope, A Love Letter from the Girls Who Feel Everything is a journey of discovery and healing.
"We are the girls who feel everything.
And this is our love letter. To you, to them, to us, to the world, to no one at all. Whether it's the brightest, sunniest day where everything is perfect, or the darkest, dreariest night of rain where life seems unbearable — we have lived it, we have survived it, and we have felt every, blissful, aching second.
Here's to embracing the feels, to the brave souls that listen to the way their hearts beat and aren't afraid to ask someone else if they feel those same beats, too. Here's to the girls, the boys, the love we sometimes share and the love we all-too-often conceal.
And more than anything, Reader — here's to you."
Download your copy today!
Amazon US: https://amzn.to/2N5Yy0x
iBooks: https://apple.co/2MpuibC
Nook: https://goo.gl/FgtQAL
Kobo: https://goo.gl/QM7mfq
Amazon Worldwide: http://mybook.to/ALoveLetter
Amazon Paperback: https://amzn.to/2PGFLFQ
Add to your Goodreads shelf: https://goo.gl/zqQmLz
BFF K's Review of A Love Letter from the Girls Who Feel Everything

When I was in High School, my Speech and Debate Coach forced me to compete in Oral Interpretation of Poetry. I've had a love/hate relationship with poetry ever since. In recent years I've found myself seeking out poetry and developing an adult's appreciation for this literary format. I was looking forward to A Love Letter from the Girls Who Feel Everything and I wasn't disappointed.
Cherry and Steiner have delivered an emotional, raw, gut-punch in pure poetic prose. There are a couple of more up-beat, optimistic pieces, but the vast majority are intense introspections on life and relationships. They reflect incredible self discovery, healthy and unhealthy relationships and most of all loss and love.
I started highlighting my favorites, but it soon became apparent that by doing so I would end up highlighting most of the book!
I think that poetry is a terrific palate cleanser when you're switching genre's or tropes. And this set would be perfect before or after an angsty read. Either way, it will get you ready and pointed in a new direction. I know that I will come back to A Love Letter many many more times and I'm sure you will too!
I haven't received too many love letters in my life, but this is definitely a love letter from Cherry and Steiner to themselves and their readers and I'm grateful to have been on the receiving end of this book!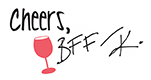 An advance copy of this book was received. Receipt of this copy did not impact the content or independence of this review.
About the Authors
Brittainy C. Cherry:
Hi! I'm Brittainy! Join me as we travel through my mind as a Romance Author. This includes such things as my random thoughts, tricks, tips, things I'm learning, things I'm re-learning, things I'm forgetting, and my weird ways of crafting stories.
Connect with Brittainy:
Facebook: http://bit.ly/2oIoDEb
Twitter: http://bit.ly/2Cnk2kr
Stay up to date with Brittainy by signing up for her mailing list: https://goo.gl/VOg4l8
Website: http://bit.ly/2NR6y1w
Kandi Steiner:
Kandi Steiner is a bestselling author and whiskey connoisseur living in Tampa, FL. Best known for writing "emotional rollercoaster" stories, she loves bringing flawed characters to life and writing about real, raw romance — in all its forms. No two Kandi Steiner books are the same, and if you're a lover of angsty, emotional, and inspirational reads, she's your gal.
An alumna of the University of Central Florida, Kandi graduated with a double major in Creative Writing and Advertising/PR with a minor in Women's Studies. She started writing back in the 4th grade after reading the first Harry Potter installment. In 6th grade, she wrote and edited her own newspaper and distributed to her classmates. Eventually, the principal caught on and the newspaper was quickly halted, though Kandi tried fighting for her "freedom of press." She took particular interest in writing romance after college, as she has always been a diehard hopeless romantic, and likes to highlight all the challenges of love as well as the triumphs.
When Kandi isn't writing, you can find her reading books of all kinds, talking with her extremely vocal cat, and spending time with her friends and family. She enjoys live music, traveling, anything heavy in carbs, beach days, movie marathons, craft beer and sweet wine — not necessarily in that order.
Connect with Kandi:
Mailing list: http://bit.ly/NewsletterKS
Facebook: http://bit.ly/2Q5lWJc
Facebook reader group (Kandiland): http://bit.ly/2wKSDnq
Instagram: http://bit.ly/2MMBuUm
Twitter: http://bit.ly/2LZqEVH
Pinterest: http://bit.ly/2MPuS7F
Website: http://bit.ly/2M2Mho0