Selah Elmore is a confident, curvy woman who knows exactly who she is and what she wants. She loves her life being a professor and popular pirate erotica author. However, when she leaves the Pacific Northwest to spend six months studying sculpture in West Africa, she learns she doesn't know a thing about love.
Cocky, suit-wearing Gerhard charms her during a stopover in Amsterdam, but dashing, adventurous Kai sweeps her off her feet in Ghana.
Sparks fly on three continents when perpetually single Selah discovers there's more to love and life than she ever imagined.
Sex? Absolutely.
Love? Not my thing.
I didn't do love or butterflies, but I loved him.
I was screwed, and not in a good way.
Wanderlust is the third novel in the Modern Love Stories series. It's a spin-off/standalone from Geoducks Are for Lovers. It isn't necessary to read that novel or Ready to Fall prior to reading this.    

BFF K's Review


I have read all of the books in the Modern Love Stories series and I adore them all! This is a particularly good story. Selah is a strong, confident heroine who must determine if the love that has caught her by surprise, is worth changes to her life that she never imagined. One of the things that I LOVE about this series is the age and maturity of the characters. Don't get me wrong, I love a good YA novel. But, it's also nice to read about characters who are having thoughts and experiences that are more closely related to those that my BFF's and I might encounter in our real lives!
Kai is a terrific character! He's charming, smart, successful, kind and caring. His sweetness and outlook on life is a balance to Selah and will have you rooting for what might seem at first to be an unlikely couple. Selah is independent, smart and sassy. I loved getting a glimpse inside her thoughts. And, if you've read the other books in this series, you'll enjoy a couple of cameos from your favorite characters!
I recommend this book, the whole series really, to anyone looking for a genuinely good love story! The book has an adventurous spirit, a good sense of humor, a case of mistaken identity, a little steam and characters you will route for!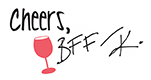 More About the Author:
Before writing bestselling contemporary adult romances, Daisy dreamed of being an author while doing a lot of other things. Antiques dealer, baker, blue ribbon pie-maker, fangirl, freelance writer, gardener, pet mom and wife are a few of the titles she's acquired over the years.
Born and raised in San Diego, Daisy currently lives in a real life Stars Hollow in the Boston suburbs with her husband, their dog, Hubbell, and an imaginary house goat.
To learn more about this author and her writing visit: http://www.daisyprescott.com, chat with her on Twitter (@daisy_prescott), or find her on Facebook: /daisyprescottauthorpage