BFF K Reviews Stranger Ranger by Daisy Prescott
Smartypants Romance Launch #2
New park ranger Daphne Baum is a reformed good girl. Breaking free from her overbearing family as soon as she turned eighteen, she's been on her own ever since. The life of a park ranger, moving from park to park, suits her just fine. Though still a rule follower, she's okay with a little sin in her life.
Every generation of Hill men has its black sheep. The general consensus among the family is that Odin Hill is the lucky bastard this go around. At seventeen, he blew out of town like an angry tornado only to return fifteen years later withdrawn and secretive. Living like a recluse in the hollows in the Smoky Mountains, he's happy to keep to himself and is content to let locals believe he's the town weirdo. Odin prefers the company of his pet pig to the nosy citizens of Green Valley.
When Daphne discovers Odin might be committing nefarious deeds on park land, she vows to find out the truth behind the handsome, yet chaotic, loner. Will the stranger help the ranger discover the difference between being good and doing the right thing? Or will they find themselves on opposites sides of love?
'Stranger Ranger' is a full-length contemporary romance, can be read as a standalone, and is book #2 in the Park Ranger series, Green Valley World, Penny Reid Book Universe.
BFF K's Review of Stranger Ranger

Daisy does it again – Stranger Ranger is a fantastic slow burn that delivers a sweet and satisfying ending! I have a sudden desire to hole up in a log cabin in the Great Smokey Mountains with my love!
Daphne is a terrific heroine with a really interesting back story. She is clever and hard working and you'll like her more and more as the story goes on! Odin is the Thor of Vegetables and there's so much more to him than meets the eye. The book is a lot of uncovering the backstories of both the heroine and the hero.
Daisy's writing just makes me happy and Stranger Ranger was another delight to read! Beware the slow burn, but know it's critical to setting up the storyline and it makes the ending worth it all. This is the perfect story to take your mind off whatever is happening in the world right now. Just be prepared to have a sudden urge to head to Tennessee!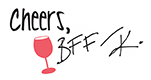 An advance copy of this book was received. Receipt of this copy did not impact the content or independence of this review.
About the Author
USA Today Bestselling Author Daisy Prescott writes romantic comedies about real love.
Love with Altitude, Daisy's new series of standalone Rom Coms, is set in the mountains of Colorado. The Wingmen books star regular guys who often have beards, drive trucks, and love deeply once they fall. Modern Love Stories feature characters in their thirties and forties finding and rediscovering love in unexpected and humorous ways.
Born and raised in San Diego, Daisy currently lives in a real life Stars Hollow in the Boston suburbs with her husband, their rescue dog, Mulder, and an imaginary house goat. When not writing about herself in the third person, Daisy can be found traveling, gardening, baking, or lost in a good book.
To learn more about Daisy and her writing, sign up for her mailing list here (copy and paste this link): http://smarturl.it/daisysignup . Send her an email at: daisyauthor AT gmail DOT com Or chat with her on Twitter (@daisy_prescott) and Facebook: /daisyprescottauthorpage, and follow her on Instagram: /daisyprescott