At 21, Calla hasn't done a lot of things. She's never been kissed, never seen the ocean, never gone to an amusement park. But growing up, she witnessed some things no child ever should.   She still carries the physical and emotional scars of living with a strung-out mother, Mona—secrets she keeps from everyone, including her close circle of college friends.
But the safe cocoon Calla has carefully built is shattered when she discovers her mom has stolen her college money and run up a huge credit card debt in her name. Now, Calla has to go back to the small town she thought shed left behind and clean up her mom's mess again. Of course, when she arrives at her mother's bar, Mona is nowhere to be found. Instead, six feet of hotness named Jackson James is pouring drinks and keeping the place humming.
Sexy and intense, Jax is in Calla's business from they moment they meet, giving her a job and helping her search for Mona. And the way he looks at her makes it clear he wants to get horizontal . . . and maybe something more. Before Calla can let him get close, though, she's got to deal with the pain of the past—and some very bad guys out to mess her up if she doesn't give them her mom.
BFF K's Review


Oh Jax! He's an absolutely incredible, swoon worthy, alpha male! Calla is a really fantastic female character, she's been dealt a pretty crumby hand in life. But, I particularly appreciated the way that Calla recognized she could not fix all of the problems in her life alone. Like most novels in this genre there are a couple of misunderstandings that leave you shaking your head. But, it was remarkably free of too many of those moments.
I loved getting to know Jax and Calla and their cast of friends. (Katie the future-seeing-stripper completely cracked me up!) If you've read the other Wait for You novels, you'll be thrilled to see a few key visits from Cam and Avery and Jase and Tess. And, the new characters introduced in this book make me anxious for the next in the series (Fall With Me, March 2015)
Like all of the Wait for You series, there is a little bit of mystery and suspense in this book that will keep you turning the pages as fast as you can as late as you can! You will not regret picking up this book and letting Jax have a spot on your Book Boyfriend List!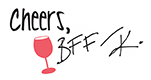 Here are links for the other books in the Wait for You Series:
Wait for You – J. Lynn (Avery & Cam)
Trust in Me – Jennifer L. Armentrout – this is Avery and Cam, but from Cam's POV
Be With Me – Jenner Armentrout – (Tess & Jase)
About Jennifer L. Armentrout:
# 1 NEW YORK TIMES and USA TODAY Bestselling author Jennifer lives in Martinsburg, West Virginia. All the rumors you've heard about her state aren't true. When she's not hard at work writing. she spends her time reading, working out, watching really bad zombie movies, pretending to write, and hanging out with her husband and her Jack Russell Loki.
Her dreams of becoming an author started in algebra class, where she spent most of her time writing short stories….which explains her dismal grades in math. Jennifer writes young adult paranormal, science fiction, fantasy, and contemporary romance. She is published with Spencer Hill Press, Entangled Teen and Brazen, Disney/Hyperion and Harlequin Teen. Her book Obsidian has been optioned for a major motion picture and her Covenant Series has been optioned for TV.
She also writes adult and New Adult romance under the name J. Lynn. She is published by Entangled Brazen and HarperCollins.