New to Avon author Lia Riley makes a splash with her first sexy, hilarious book in the sizzling Brightwater series!
A kiss is just the beginning…
Pinterest Perfect. Or so Annie Carson's life appears on her popular blog. Reality is… messier. Especially when it lands her back in one-cow town, Brightwater, California, and back in the path of the gorgeous six-foot-four reason she left. Sawyer Kane may fill out those wranglers, but she won't be distracted from her task. Annie just needs the summer to spruce up and sell her family's farm so she and her young son can start a new life in the big city. Simple, easy, perfect.
Sawyer has always regretted letting the first girl he loved slip away. He won't make the same mistake twice, but can he convince beautiful, wary Annie to trust her heart again when she's been given every reason not to? And as a single kiss turns to so much more, can Annie give up her idea of perfect for a forever that's blissfully real.
BFF K's Review

It had to be special, a moment that was theirs and theirs alone. After all, he wanted it to be her last first kiss."
This quote completely epitomizes Sawyer Kane, the absolutely swoon-worthy hero of this book. (I highlighted several more delicious quotes!) Sawyer is something else – all rugged, hot, good-guy, handy, does-the-dishes, saves the day, keeps promises, knows what he wants COWBOY! Be still my heart!  <3
Annie and Sawyer had a clandestine friendship/relationship in high school, but one rough night tore them apart and sent them in opposite directions. (Annie ran as far away from her hometown as she could get. Sawyer stayed and became the town Sheriff.)  Add in a nasty, centuries-old, family feud and there are a few issues this couple will need to work through to re-establish their relationship and have a future together.
This book has a delightful, second-chance-romance storyline. The characters are terrific, well-developed and well-written. Annie and Sawyer share intimate moments reconnecting that are absolutely butterfly-inducing. The book has enough tension that you turn the pages, but it isn't an over-wrought, angst-ridden read. It's sweet and wonderful and enchanting! I highly recommend "Last First Kiss" and I can't wait to read Book #2 in this series, "Right Wrong Guy"!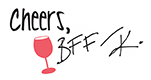 *An ARC of this book was received in exchange for an honest review.
Find other sites from the tour for Last First Kiss
Goodreads Goodreads Series Link
BFF K's Review coming VERY soon!
Excerpt
He tilted back his Stetson, running his intense gaze over her face. "You haven't changed much."
The simple statement threatened to fell her. He had no idea everything was different. The dreamy, hopeful girl she'd been, the one he'd known all those years ago, had her atoms obliterated and her soft underbelly refashioned, armored with titanium plates. She didn't run barefoot through meadows or jump blindly into rivers.
Not anymore.
"Thanks for the repair job," she said, stepping back, blinking rapidly. He'd fixed the coop, but no one could fix the cracks in her confidence and imploded self-esteem. She needed to do that—if only she knew how. Was there a Self-esteem for Dummies?
Then he moved. Close. Closer. Way too close. The old magnetic pull between them hadn't lost any potency. The air charged. So much so that when he reached out, cradling her cheek, she expected a zap. "I missed you, Annie Girl."
Her heart beat sideways at his use of the old nickname.
"I . . . " missed you too. God. So much. "I have to go." She took another step backward and then another. "And anyway, I'm not staying, at least not for long. My family's decided it's time to sell the farm."
"Sell?" His body went rigid. "But this place has been in your family forever. All your history is here. How can you let it go to a stranger?"
Who was he to come around at an ungodly hour, in those tight faded jeans that showcased his . . . everything, touching her cheek, giving her unsolicited guidance? Her chest heated. Is that why he was here—being the good cop to Grandma Kane's bad cop? "I appreciate your help with the coop, but let's not pretend you're giving impartial neighborly advice. Your family wants the property back. Trust me, I get the situation. I was raised with it, but we can get more for Five Diamonds than your grandmother could ever offer."
He dropped his chin, leveling a penetrating stare. "That's not what I meant, it's not about the feud. You know I don't care about any of that."
She used to believe that, had once fooled herself into believing they were kindred spirits. "I don't know anything about you anymore, Sawyer. Maybe I never did."
She pivoted and strode toward the house, clenching the scotch bottle. Why did he come, force her to feel things better forgotten? She was almost at the stairs when a large, powerful hand closed on her upper arm, not a grip, but a gentle touch that halted her mid-step. Her heart pounded, her belly breaking into wild flutters.
Slowly, so slowly, she turned.
He held her gaze squarely, as if daring her to look away. "You know who I am," he said.
She couldn't reply, even if she knew what to say. She couldn't blink or swallow or think. The only sound beside the wind came from their shallow breaths. She and Sawyer might be water under the bridge, but it looked like that water was churning, roiling whitewater.
About the Author

Lia Riley writes offbeat New Adult and Contemporary Adult romance. After studying at the University of Montana-Missoula, she scoured the world armed only with a backpack, overconfidence and a terrible sense of direction. She counts shooting vodka with a Ukranian mechanic in Antarctica, sipping yerba mate with gauchos in Chile and swilling XXXX with stationhands in Outback Australia among her accomplishments.
A British literature fanatic at heart, Lia considers Mr. Darcy and Edward Rochester as her fictional boyfriends. Her very patient husband doesn't mind. Much. When not torturing heroes (because c'mon, who doesn't love a good tortured hero?), Lia herds unruly chickens, camps, beach combs, daydreams about future books, wades through a mile-high TBR pile and schemes yet another trip. Right now, Icelandic hot springs and Scottish castles sound mighty fine.