Love Between the Covers
A Documentary Film
Written, Produced & Directed by: Laurie Kahn
Releasing July 12th, 2016
Love stories are universal. Love stories are powerful.  And so are the women who write them.
Love Between the Covers is the fascinating story of the vast, funny, and savvy female community that has built a powerhouse industry sharing love stories.  Romance fiction is sold in 34 languages on six continents, and the genre grosses more than a billion dollars a year — outselling mystery, sci-fi, and fantasy combined.  Yet the millions of voracious women (and sometimes men) who read, write, and love romance novels have remained oddly invisible. Until now.
For three years, we follow the lives of five very diverse published romance authors and one unpublished newbie as they build their businesses, find and lose loved ones, cope with a tsunami of change in publishing, and earn a living doing what they love—while empowering others to do the same. Romance authors have built a fandom unlike all others, a global sisterhood where authors know their readers personally and help them become writers themselves. During the three years we've been shooting Love Between the Covers, we have witnessed the biggest power shift that has taken place in the publishing industry over the last 200 years. And it's the romance authors who are on the front lines, pioneering new ways to survive and build communities in this rapidly changing environment.
Pre-Order Now
Watch the Official Trailer
BFF K's Review of Love Between the Covers


This review is a little different for BFF Book Blog! Today I'm bringing you a review not for a book, but for a MOVIE about books! I was thrilled to have the opportunity to review Love Between the Covers, a documentary film by Laurie Kahn. This film delves into the world of Romance writers and readers. It is every life affirming message about the genre that I love!
I've never paused a movie so many times to listen and even write down quotes! Love Between the Covers discusses why the Romance Genre is so popular among fiction readers. The movie is insightful and engaging for anyone who loves to read romance. It also talks about literary fiction in general and the important role that it plays in teaching readers about life and society.
I believe that Romance gets a bad rap. It's often dismissed and looked down upon for a variety of reasons. As a Romance reader, I've felt the need to downplay my love of the genre or been embarrassed by my choice in literature. I'm starting to sing a different tune. I am making a conscience effort to be more supportive of the industry, to own my love (pun intended) of the genre and my role as both a reader and blogger.
Love Between the Covers highlights the things that make Romance and Romance readers unique. These are more than just books. There is escape, hope, inspiration and love written on these pages. Readers devour the words and bond not only with the characters, but with the authors and with one another.
I can't stress enough how much I enjoyed this film. I will be watching it many more times. I highly recommend it to anyone who has ever had to defend Romance as your books of choice. The film is entertaining, educational and most of all empowering!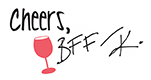 An advance screening of this film was provided by the Director and PR Company in exchange for an honest review.
Smart Girls Read Romance
BFF K has combined forces with Tina Lynne from Typical Distractions Blog to create Smart Girls Read Romance. This is a Facebook Group for all of those who LOVE the Romance genre. We have come together to promote and share and support romance authors and readers. Join the Revolution!
https://www.facebook.com/groups/SmartGirlsReadRomance/
Giveaway
About the Filmmaker
Director/Producer LAURIE KAHN's films have won major awards, been shown on PBS primetime, broadcast around the world, and used widely in university classrooms and community groups. Her first film, A Midwife's Tale, was based on the 18th century diary of midwife Martha Ballard and Laurel Ulrich's Pulitzer Prize-winning book A Midwife's Tale. It won film festival awards and a national Emmy for Outstanding Non-Fiction. Her film TUPPERWARE! was broadcast in more than 20 countries, won the George Foster Peabody Award and was nominated for a national Best Nonfiction Director Emmy. Kahn previously worked on Eyes on the Prize: America's Civil Rights Years, The American Experience, FRONTLINE'S Crisis in Central America, All Things Considered, and Time Out. She's a resident scholar at Brandeis's Women's Studies Research Center.
For more information on the film, http://www.lovebetweenthecovers.com/