When 27-year-old pop sensation Brooklyn Heart steps in front of a microphone, her love songs enchant audiences worldwide. But when it comes to her own love life, the only spell she's under is a dry one.
So when her label slots her for a Grammy performance with the sexy and soulful Jason Monroe, she can't help but entertain certain fantasies… those in which her G-string gets more play than her guitars'.
Only one problem. Jason is a lyrical lone wolf that isn't happy about sharing the stage—nor his ranch — with the sassy singer. But while it may seem like a song entitled 'Jason Monroe Is an Arrogant Ho' basically writes itself, their label and their millions of fans are expecting recording gold…
They're expecting The Duet.
BFF K's Review
AND a 1/2
This book was such a sweet surprise! I had no idea what to expect, but I LOVED every second of it! I read the entire book in a day. (That's crazy fast for me and means I'm ignoring my family, eating only things that don't require actual cooking and avoiding most forms of human interaction.) It was that good!
There were so many times during this book that I was literally Laughing Out Loud! There are only a handful of books that I can say really made me laugh and this book shoots to the top of that list. I want to see this made into a movie. Immediately. I can picture the scenes already.
Jason will make you swoon. Brooklyn will make you laugh. Cammie will make you long for a sister just like her! I want to live in this world with all of these characters as my BFF's! I want re-read this sometime soon (it's that good) and I can't wait until Cammie and Grayson's story releases Spring 2015!
If you're looking for a light, fun, sweet, book with great characters and stories that will make you wipe tears of joy from you face – pick this book up TODAY!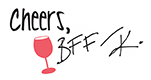 The Duet will be priced at $2.99 for two days post-release, then the price will bump to $3.99!
About the Author:
I am a lover of books, chocolate, reality TV, black labs, and cold weather. Seriously, if I had it my way, I would be curled up on the couch with all of those things… everyday.
I live in Texas where I spend my free time writing and reading. My favorite authors include Mindy Kaling & Jonathan Safran Foer. I'm a comedy geek and love all things "funny". Women like Tina Fey, Amy Poehler, and Mindy Kaling are definitely the biggest inspirations for my writing, though I think my work tends to skew a bit smuttier than theirs.
Facebook | Twitter | Website | Goodreads