First Grave on the Right is the smashing, award-winning debut novel that introduces Charley Davidson: part-time private investigator and full-time Grim Reaper.
Charley sees dead people. That's right, she sees dead people. And it's her job to convince them to "go into the light." But when these very dead people have died under less than ideal circumstances (i.e., murder), sometimes they want Charley to bring the bad guys to justice. Complicating matters are the intensely hot dreams she's been having about an Entity who has been following her all her life…and it turns out he might not be dead after all. In fact, he might be something else entirely.
This is a thrilling debut novel from Darynda Jones, an exciting newcomer to the world of paranormal romantic suspense.
First Grave on the Right is the winner of the 2012 Rita Award for Best First Book.
Buy First Grave on the Right on Amazon
BFF K's Quick Review of First Grave on the Right

I LOVE the Sookie Stackhouse, True Blood series by Charlaine Harris. First Grave on the Right is the closest thing I've read to Sookie in the last several years! It is campy, entertaining and fun. The premise of the Heroine being the Grim Reaper is unique and interesting. The storyline is fast-paced and amusing. I did a combo read and listen and both were super enjoyable! If you're looking for something different, particularly paranormal romance, I strongly recommend checking this one out!
An advance copy of this book was received. The reviewer purchased the audiobook copy. Receipt of the advance copy did not impact the content or independence of this review.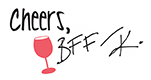 About the Author
NYTimes and USA Today Bestselling Author Darynda Jones has won numerous awards for her work, including a prestigious RITA, a Golden Heart, and a Daphne du Maurier, and her books have been translated into over 18 languages. As a born storyteller, Darynda grew up spinning tales of dashing damsels and heroes in distress for any unfortunate soul who happened by, and she is ever so grateful for the opportunity to carry on that legacy. She currently has two series with St. Martin's Press: The Charley Davidson Series and the Darklight Trilogy. She lives in the Land of Enchantment, also known as New Mexico, with her husband and two beautiful sons, the Mighty, Mighty Jones Boys.
Click here to read one of the more popular short stories by Darynda called Dust Devils:
She can be found at http://www.daryndajones.com