Always the wedding planner, never a bride, Elliot Lynch is famous for orchestrating the splashiest weddings in Charleston, South Carolina. When her father's sloppy management practices leave them on the brink of bankruptcy, Elliot will do whatever it takes to save the family business. When asked to appear on "The Marrying Type," a reality TV show about the people behind the scenes as couples exchange I dos, she says yes to the invasion of privacy (and the hefty paycheck that comes with it).
With a camera crew capturing every detail of her life, Elliot faces her most challenging contract yet: planning a wedding where her ex is involved in every part of the process. Add in a lazy assistant, liquor-loving bridesmaid, and rival planner encroaching on her turf, and Elliot's wedding season goes from high-end to high-stress.
Forced to confront her past, Elliot must live out her troubled present on national TV if she has any hope of saving her future.
BFF K's Review of The Marrying Type

The Marrying Type delivers just what you expect from the synopsis. It is a straight-forward, sweet, storyline that delivers a fun read and a satisfying conclusion. I listened to the book on audio and enjoyed it very much. (The narrator can get a bit nasally, but it didn't interfere with my overall enjoyment of the story.)
Elliot Lynch is in a predicament. She needs a quick solution to save her family's business and keep her life on track. When she ends up planning the wedding of her ex's sister, while filming a reality TV show at the same time, there are bound to be additional complications. Enter Eric-the-Ex. He's all of the wonderful things that Elliot remembers and it's becoming harder and harder to deny their feelings for one another. Suddenly the things that pulled them apart years ago don't seem as daunting.
This charming story has a great mix of two fun settings: wedding planning and reality TV. Add a dash of 2nd chance love and you have The Marrying Type. This is just a lovely romance with little to no steamy times, but it's full of quirky characters and lots of heart! I look forward to more books from this author!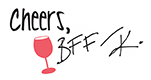 An audio copy was provided by the author in exchange for an honest review.
About the Author
Laura Chapman is the author of The Marrying Type, Hard Hats and Doormats and the Autumn and Tuck series, which appear in Merry & Bright and A Kind of Mad Courage. A native Nebraskan, she loves football, Netflix marathons, and her cats, Jane and Bingley. Until she fulfills her dream of landing a British husband or becoming a Disney princess, you can find her in a bar penning her next novel.
Stay Connected