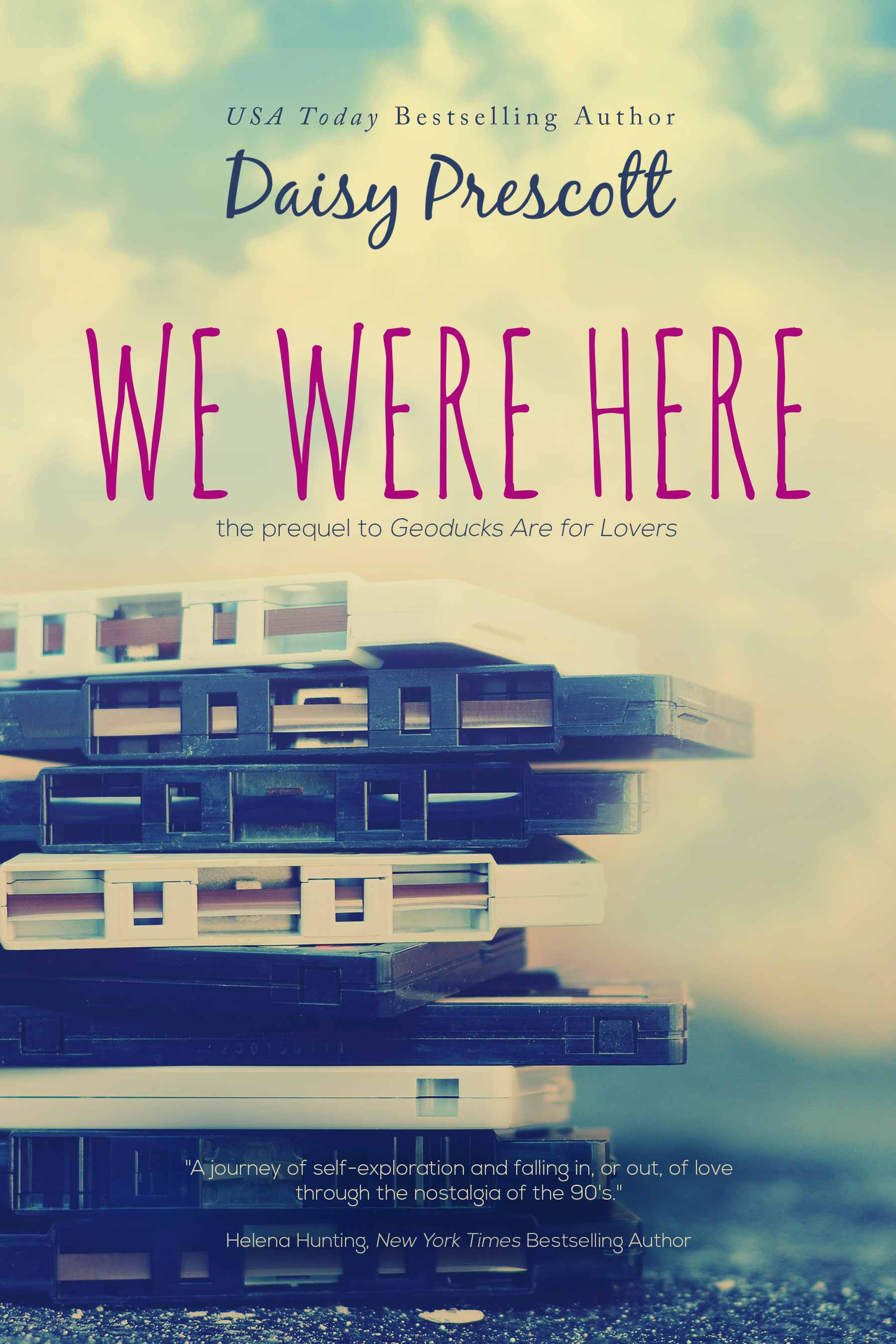 In the 90s …
texting involved paper and a pen …
… our selfies were Polaroids …
… our favorite music was on mix tapes.
Sex was dangerous, music was raw, and falling in love felt nostalgic.
We were friends and lovers.
We thought we knew everything.
We knew nothing.
We were here.
Set in the early 1990s, a time before the internet, social media, and smart phones, We Were Here is the prequel to Geoducks Are For Lovers. This book can be read as a standalone.
"This story has it all! Just like a mixed tape; we get a dose of steamy romance, angsty ballads and sweet love songs woven together in a compelling, heartwarming and sometimes heartwrenching journey of self-exploration." Helena Hunting, New York Times and USA Today Bestselling Author
Links to purchase We Were Here
Amazon                    iBooks                    Barnes & Noble                    Kobo
Excerpt

ONE:
Maggie, Freshmen year
After being quizzed about the Dewey Decimal system, and failing, I returned to my room in shame. At this rate, if I wanted to work on campus, I'd be washing dishes in the dining hall. Nothing could be grosser than the used food and unclean dishes of thousands of college students. I gagged at the thought as I opened our door.
Inside, Jennifer—my perfectly nice and perfectly normal roommate—was straddling a guy on my desk chair, making out.
She might have been trying to eat his face. I couldn't really tell in the two seconds I stared at them before clamping my eyes shut. I know I spied her tongue. Outside of her mouth. All I could see of him were his dark hair, long legs, and brown Wallabee boots.
Panicked about interrupting something, and simultaneously feeling like a prude, I backed my way through the open door. After it quietly clicked close, I pressed my head against the cool metal.
I could go back to the library, except I left there ten minutes ago. The dorm lounge was an option, but this time of day meant it would be filled with some random club. I couldn't remember if Thursday's meeting was German Lovers or Save the Geoducks—our school mascot. Neither appealed to me.
I stared harder at the painted metal, wishing the make-out session on the other side would end sooner rather than later.
"Are you locked out?" The blond guy from down the hall rested his head on the bulletin board next to my room. "Or are you praying?"
Pressing my cheek on the door, I twisted to see him more clearly.
"It's okay if you are. Pray if you've got to."
"I'm not. Just thinking."
A loud moan sounded from inside the room. "Oh, oh, oh God."
"Sounds like someone in there is praying." His lips curled into a smile. "You might want to step away, lest someone think you're a pervert for eavesdropping."
I jumped away from the door. "I wasn't listening!"
Chuckling, he held up his hands in defense. "Not judging you. Praying and voyeurism both have their places, usually in Madonna videos."
Another not so soft groan carried from my room. I took a step farther away. My favorite black on black Swatch showed the time as four o'clock. Too early to go to dinner. Looks like I'll be going to the lounge after all.
"You want to come hang out in my room until they finish whatever they're doing in there?" His offer sounded genuine and his smile was more than friendly. He gestured over his shoulder to the open door across the hall and down a few rooms. "I can promise you my roommate isn't in there making out with anyone. We should be safe."

TWO:
Selah, Freshman Year
"Miss Elmore."
Great. Despite most definitely being outside of class and off campus, he'd reverted to formal names.
"Mr. Vincent."
"I'm surprised to see you here." He ignored introductions to his friend.
"I could say the same. I didn't realize you lived in Olympia."
"I don't."
Geez, this conversation couldn't be more boring. Maybe his companion was friendly. I stuck out my hand. "Hi, I'm Selah, one of Mr. Vincent's students at Evergreen."
"Pleased to meet you. I'm Kevin." If someone could be described as beige, he was that person. Nothing remarkable about him except how unremarkable he looked. "Are you taking Jason's sex class?"
Thankfully, I remained composed enough not to swallow my tongue. "Is that how he's describing it? Professor?" I held my gaze steady on Jason's face. I swore I saw his cheeks color with pink.
"Kevin." His voice lowered, stern and threatening.
Kevin's grin told me he enjoyed teasing Jason. They must have been old friends. "Fine, are you in Professor Vincent's biology class?"
"I am. I'm hoping for an A."
Kevin's clever eyes swept over me. "What year are you?"
"First."
Jason groaned while Kevin nodded and asked, "Tell me, Selah, has anyone ever called you Lolita before?"
Now my own cheeks heated. My skirt suddenly felt too short—the gap between it and my boots exposing a lot of fishnet covered skin. Or it could have been my short pigtails. I realized all I needed was a lollipop.
"Can't say it's happened before, Kevin."
Clearly, Kevin knew my game. Or maybe Jason's. I'd never thought he could be the type to seduce his students. As far as I knew, this class was his first teaching job.
"How did you get in here?" Jason changed the subject. "Fake ID?"
Busted. "No one carded us."
"Doesn't make you legal."
"Are you going to call the police? Have us arrested and handcuffed?" It might have been the vodka, but I decided to be bold and push him. "Are you into handcuffs, Professor?"
Jason choked on his beer, coughing to clear his throat.
After making sure his friend wasn't dying, Kevin laughed. "This is more entertaining than I imagined a college dive bar could be."
I focused my attention on the non-choking friend. "What brings you to Olympia, Kevin?"
"I'm in politics."
Jason found his voice again. "He's an assistant to an assistant to a state senator."
"Then you know all about impropriety." I gave him a sweet smile.
"It's been a political tradition since the Founding Fathers." Kevin raised his glass. "I like you. Care to join us?"
Jason set his beer on the table. "I can't be seen drinking with students. Kevin, shut up." He pointed at me. "You return to your booth and your friends, and we'll pretend we never ran into each other."
"Yes, sir." I saluted him. "Can I ask one question first?"
"If he doesn't answer, I will." Kevin gave me a wicked grin like a wolf in beige clothing.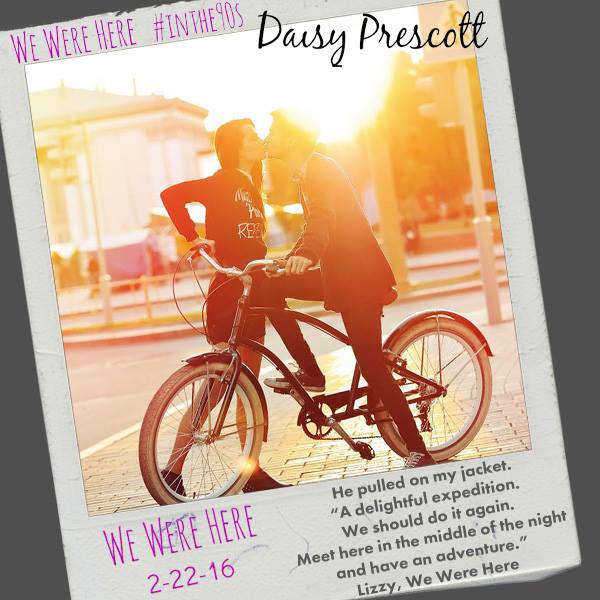 BFF K's review and an exclusive interview with Daisy Prescott coming soon!!
About the Author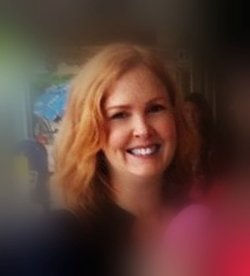 USA Today Bestselling Author Daisy Prescott writes romantic comedies with heart.
Her Modern Love Stories feature characters in their thirties and forties finding and rediscovering love in unexpected and humorous ways. Her Wingmen books star regular guys who often have beards, drive trucks, and love deeply once they fall.
Born and raised in San Diego, Daisy currently lives in a real life Stars Hollow in the Boston suburbs with her husband and an imaginary house goat. When not writing about herself in the third person, Daisy can be found traveling, gardening, baking, or lost in a good book.
To learn more about Daisy and her writing, sign up for her mailing list here
Send her an email at: daisyauthor@gmail.com
Twitter | Facebook | Author Goodreads | Pinterest | Instagram | Google+